First Thai Vote in Two Years Causes Confusion, Risks Turmoil
by
Campaign ban leaves voters 'starved' of facts on new charter

Junta that took power in coup says charter targets corruption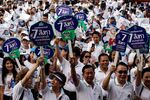 Thailand's junta will hold the country's first vote in more than two years with a referendum Sunday on a new constitution. But a ban on campaigning has left many Thais in the dark as to what it is all about.
"I didn't even know there would be a referendum until my big sister told me," said Ging, a 35-year-old woman who works for an insurance company in Bangkok. "I don't care much about the vote. I don't even know what it's about. No one in my office has been talking about it."
The woman asked to be identified only by her nickname given a law that could land her in jail for 10 years for campaigning for or against the charter, which would be the nation's 20th constitution since 1932 and the fifth in the past decade. The junta, which toppled an elected government in a May 2014 coup, has other curbs on freedom of speech and assembly.
"It has become apparent that voters are short of information, if not outright fact-starved," the Bangkok Post newspaper said in an editorial Aug. 1. "Even explanations of the contents could be -- and sometimes were -- judged harshly enough for arrests and detentions."
For an explainer on Thai politics click here
The junta and its backers say the new constitution is needed to curb the influence of corruption-prone politicians and move past a decade of political unrest that has overshadowed Southeast Asia's second-largest economy. Politicians, academics and rights groups say the draft is undemocratic, will extend the military's influence over the country and ultimately lead to more problems.
If the draft is approved it may help the junta consolidate power before elections it has said could be held next year. A rejection could derail that timeline, potentially leaving the junta ruling indefinitely. Either outcome is likely to exacerbate political tensions.

"I'm not concerned," Prime Minister Prayuth Chan-Ocha told reporters Tuesday. "Whatever the result, we are still in line with the roadmap" where the junta has outlined its plan for elections in late 2017. The timeline for an election has been delayed several times.
If voters approve the charter and an election does go ahead next year it could temporarily boost an economy growing at a slower pace than neighbors like Indonesia, Vietnam and the Philippines. Since the junta took over, exports, foreign direct investment and industrial output have fallen, though the stock market is up 17 percent this year, in part on infrastructure spending.
'Short Lived'
"Investors may cheer -- not the new charter but the increased hopes of an election next year," Vikas Kawatra, managing director of institutional sales at SCB Securities Co. in Bangkok, said Aug. 3 in a research note. "Given that the powers of any new parliament, whenever formed, will be quite restricted, those cheers will be short lived."
With many Thais knowing so little about the 279-section draft, which was written by a junta-appointed committee, the referendum may simply be a way to express their view on the junta and its leader. While the government mailed the constitution to registered voters and made it available online, turnout may be low as people opt not to vote at all.

"Most people will not try to analyze it at all." said Kan Yuenyong, executive director of Siam Intelligence Unit, a Bangkok-based think tank. "I think they will just vote based on their emotions, based on their perceptions."
"It's not about the constitution itself; it's not about the content itself," he said. "It still reflects to the bigger picture of the polarization of the country."
Charter Critics
The head of the junta drafting committee, Meechai Ruchupan, has warned a rejection of the charter would spur political instability by emboldening opponents of the junta. Meechai, who also oversaw a new constitution following a 1991 military coup, says his latest draft will eradicate graft from the public and private sector.

Others say the charter is aimed at limiting the power of politicians and preventing the resurgence of Thaksin Shinawatra, a former prime minister whose allied parties have won every ballot since 2001. His ouster in a 2006 coup started the latest cycle of military intervention, protests and counter protests. The government of his sister Yingluck Shinawatra was removed in the 2014 coup.
Opponents of the draft cite sections that would permit a non-elected prime minister, turn the senate into an appointed body with sitting members of the military and give extra power to the courts. It would also allow all orders made by the junta -- which has absolute power -- to remain, and require future governments to adhere to its 20-year development plan.
"If the draft passes the referendum, Thailand will be an authoritarian state under a disguise of a constitutional regime, with the help of the military-appointed senate, the constitutional court and various independent organizations," said Puangthong Pawakapan, an associate professor of international relations at Chulalongkorn University in Bangkok. "The military and the conservative elite will claim a constitutional legitimacy to interfere in politics."
The draft has been criticized by politicians from both sides, including former Prime Minister Abhisit Vejjajiva, whose supporters staged protests against Yingluck and cheered her government's removal.
Authorities will deploy more than 200,000 security officials to about 95,000 polling stations between 8 a.m. and 4 p.m. local time on Sunday. The Election Commission said initial results are expected late Sunday, with an an official tally to be released within three days of the non-compulsory vote.
For Ging, she said she doesn't think too much about politics unless it leads to street protests. Still, she plans to do some research before heading to vote. "I will ask my sister to explain it to me."
Before it's here, it's on the Bloomberg Terminal.
LEARN MORE