Corbyn and Smith Clash in First U.K. Labour Leadership Debate
by
Loyalty and electability dominate fractious livestreamed event

Candidates differ over Trident and tackling anti-semitism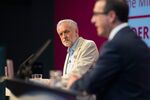 U.K. Labour Party leader Jeremy Corbyn and his challenger, Owen Smith, clashed over loyalty and electability as well as nuclear weapons and anti-semitism in a fractious first debate in the race to lead the U.K.'s main opposition.
While they agreed over large swathes of party policy, Smith repeatedly needled Corbyn over his poor showing in opinion polls, saying he is incapable of defeating Prime Minister Theresa May in a general election. Corbyn responded by accusing Smith of being disloyal and damaging the party's chances by joining the mass resignation of Labour's senior team in the House of Commons after the Brexit vote on June 23.
"What I can't understand is how you can campaign against disunity in the party when you and others were the ones who resigned," Corbyn said in the debate in Cardiff, which was broadcast over the Internet. "When we work together we win; when we work together we do defeat the Tories," he said, before accusing lawmakers opposed to him of being "silly and childish."
Corbyn is favorite to hold onto his job after the contest was forced by lawmakers unhappy with his leadership and in particular his performance in the European Union referendum and its aftermath, when he called for the immediate start of the formal process for leaving the bloc. He won the leadership with almost 60 percent of votes less than a year ago and was backed by 54 percent of party supporters, compared to 22 percent for Smith, in an Opinium poll published on July 23.
Smith said there should be a second referendum on EU membership after the terms of the deal to leave have been established. He also called for investment in manufacturing and infrastructure to revive the British economy, regularly repeating that this can only be achieved if the party wins power.
"We need to be more than radical: we need to be credible; we need to look and sound like people that the country can trust," Smith said, citing polls that show Corbyn's personal ratings lag far behind May's, even among some people who voted for the party in the general election last year. "Two million Labour voters are telling us they would rather have a Tory prime minister than a Labour government and that's got to be a wake-up call to everyone in this party," he said.
Whoever wins the leadership will have a battle to overcome the lead in the polls for May's Conservatives. A poll of 1,722 voters by YouGov on August 1 and 2 put the Conservatives on 42 percent, up two points on the previous week, and Labour on 28 percent. A general election isn't due until 2020.
Corbyn blamed divisions in the parliamentary Labour Party, which in June voted "no-confidence" in his leadership by 172 ballots to 40, and a "biased" media for the party's poor showing in the polls. Smith said ineffectual leadership by Corbyn and a lack of clarity in Labour's message is to blame.
The two men clashed most passionately over replacement of Britain's Trident nuclear weapons system, which Corbyn opposes but Smith backs, in line with Labour party policy, decided at its annual conference. Corbyn said unilaterally giving up the weapons would encourage other countries to follow Britain's lead, while Smith argued that renewing them gives the U.K. more leverage in disarmament negotiations.
Smith also accused Corbyn of presiding over a rise in anti-semitism in the party during his nine months as leader and not doing enough to tackle it. Smith said he is "ashamed" the Labour Party is being associated with racism against Jews.
"We've been too slow. I don't think we've done enough to stamp it out. I don't think our leadership has been strong enough about stamping it out," Smith said. Those found to be anti-semitic should be expelled and "never come back," he said.
Corbyn, who commissioned a review into racism in the party, was jeered by some of the audience as he said rule changes should help to tackle the problem.
"Every case must be investigated as indeed should any form of racism in our party, in our society," he said. "Where a case is proved against anybody of course they don't have a place in the party."
Before it's here, it's on the Bloomberg Terminal.
LEARN MORE