BOJ's Iwata Says Tapering After Policy Review Is Unthinkable
by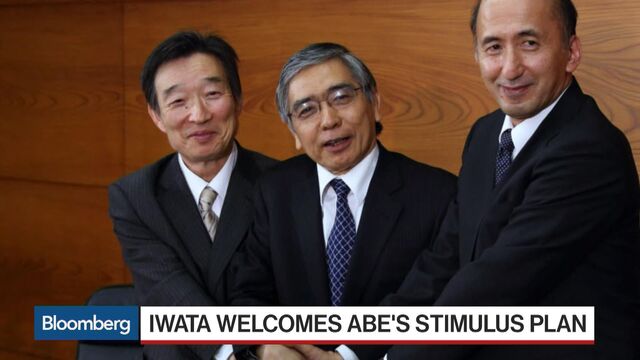 The Bank of Japan will not taper its record easing after assessing policy at the September meeting, Deputy Governor Kikuo Iwata said amid growing speculation about what the BOJ's planned review will decide.
"We have carried out monetary stimulus in three ways - quantity, quality and the interest rate. This review is to mull what kind of combination is the best to achieve the 2 percent price target at the earliest time possible," Iwata told reporters in Yokohama on Thursday. "It's just unthinkable we will reduce the level of easing."
Interest in the review next month is high, as the BOJ is the biggest single holder of government bonds and also one of the biggest stockholders in Japan, so any changes to its policies will affect investors all over the world. The comments came a few days after Governor Haruhiko Kuroda said that the review wouldn't lead to any shrinking of policy, adding to earlier comments that the 2 percent inflation target will not change.
"Let me make it clear that we do not have any specific future directions of monetary policy at this moment," Iwata said in a speech to local business leaders earlier on Thursday. "We would like to work with an open mind" on what should be done to reach the 2 percent target at the earliest possible time, he said.
The review "is going to be about what more the BOJ can do to have an impact on inflation," said Takeshi Minami, chief economist at Norinchukin Research Institute. "With Kuroda's comments earlier this week, it's becoming more likely that the BOJ will confirm the effectiveness of current policy."
Minami said it's possible the BOJ will adjustment its bond purchase operation to sharpen up a flat yield curve by reducing the purchase of super-long bonds.
Falling Prices
The announcement of the policy review comes as prices continue to fall, moving further away from the bank's target. The BOJ wants to examine what's preventing its stimulus from generating price rises, and what needs to be done to reach stable inflation, the deputy governor said.
Japan's benchmark 10-year bond yields surged earlier this week to the highest level since March, with some bond traders speculating that the BOJ is reaching the limits of policy. While the bank expanded purchases of exchange-traded funds at the meeting last week, it refrained from cutting its negative rate deeper or enlarging the purchases of government bonds.
Before it's here, it's on the Bloomberg Terminal.
LEARN MORE