Blunders and Political Hangover Damp Brazil's Olympic Mood
by and
Brazil interim president ready for jeers at opening ceremony

Only about 40 countries will send senior officials to Rio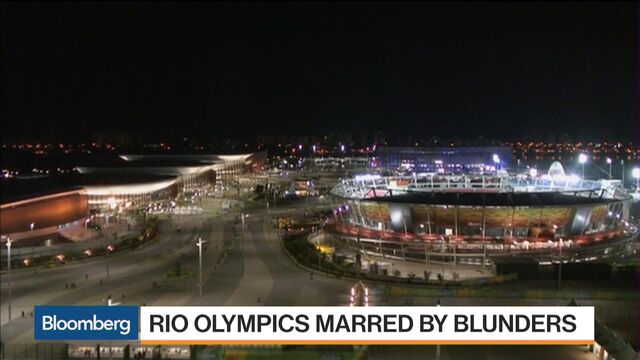 The Olympic ideal of noble sportsmanship bringing together all nations was hardly on display in Rio de Janeiro when a torch bearer dropped his pants in front of the crowd and cameras in protest against Brazil's Acting President Michel Temer. 
Images of the scantily-clad man -- who sported a leopard-printed thong with the words "Out With Temer" written on his backside -- went viral in Brazil and became the latest in a series of snafus plaguing the host nation of the XXXI Olympic Games.

From the trash-ridden sailing venue in Guanabara Bay to unfinished athlete housing that the Australian delegation called "unlivable," Brazil has amassed a number of embarrassing blunders. Particularly awkward for foreign leaders is that the nation currently has two presidents -- Dilma Rousseff is suspended as she awaits an impeachment trial. Whether due to the political crisis or security concerns, only about 40 countries will send senior officials to Rio, a stark contrast with more than 100 heads of state who attended the 2012 London Olympics.
Other headlines that have made officials cringe included the killing of a jaguar used in an Olympic photo shoot and the Chinese basketball team caught in a shootout as they arrived in Rio.

The two Brazilian leaders responsible for bringing the Olympics to Rio, Rousseff and her predecessor Luiz Inacio Lula da Silva, won't be attending Friday's opening ceremony. In an effort to protect Temer from the same type of jeering that Rousseff suffered during the 2014 World Cup opening ceremony, organizers will blast loud music in the Maracana stadium on Friday as soon as he declares the games open, according to his aides.
Yet the potential for additional embarrassment during the Olympics remains high. Labor unions and student groups are planning protests across Rio's beach-front avenue in Copacabana over the next few days, hoping to take advantage of the international media attention.
"Whoever protests in any way against the event is playing against Brazil, Brazilians and themselves," said Eliseu Padilha, Temer's chief of staff.
Before it's here, it's on the Bloomberg Terminal.
LEARN MORE