Ballet's Misty Copeland Wants to Give Young Minorities an 'Opportunity to Dream'
The first black female principal dancer of a major American ballet company doesn't plan to be the last.
By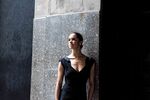 The following is a condensed and edited interview with Misty Copeland, principal dancer, American Ballet Theatre.
 
Being named the first black female principal dancer at ABT is an honor. Is it a heavy weight to bear, as well?
I don't feel that way. I love what I do. I understand the representation that I have and that it's a responsibility. Being a black woman, I've always understood that when we're given an opportunity, we're carrying everyone with us. That's just how it is.
 
When I joined ABT, I looked around me and I saw I was the only black woman in a company of 80 dancers. For 10 years it was that way, so I've always had an understanding.
 
Much has been made about how you have a different build than a lot of dancers of your caliber. Do you view your success as a sign that there's room for different types of people in classical dance?
Absolutely. The body of the ballerina is constantly evolving. You look back to the 1800s, and you see images, even Degas paintings, and the ballerinas are fuller. I think it evolves with the times, just like fashion does. And I think it also depends on the choreography that you're doing, which has become more athletic over the years.
 
Now when it comes to race, I think that's what kind of changes the vocabulary. And instead of making it so obvious, like, "We don't want to see a different shade of ballerina; we don't want to see a black ballerina," the easiest thing to say is, "You don't have the right body type." Now I look at dancers in ABT, in top companies, who don't have this kind of ideal image as to what we like to say is the perfect ballerina. There are dancers who have large busts and are more muscular, but nothing is said to them. I think a lot of that vocabulary has to do with my race and always has.
 
As an art form, dance requires so many different talents.
The physical aspect and the athleticism it takes is out of this world. We train so hard to make it look effortless, but I don't think people understand that you have to really understand acting and be able to have the person in the top tier in the back—who can't see your face—understand what you're saying through your movement. That's definitely a skill.
 
You're widely known now—and have endorsement deals: Under Armour, Seiko. What does the Misty Copeland brand mean to you?
I turned down a lot of people because it means much more to me to have a connection to these things and have it be a part of my message and what I stand for. I want people to know how beautiful this art form is and how much it's done for me as an underprivileged child. That it's changed my life. It's made me articulate. It's made me confident.
 
Under Armour is all of those things. All of the athletes [CEO] Kevin Plank has literally plucked have been people he sees as having promise, have been people who don't fit this mold of like, "Oh, this person is going to be the best." But he knows that they are. He definitely saw that underdog story in me and saw me as an athlete. That means the world to me, because in America people just don't look at dancers that way. And I think he's given me a platform to be viewed in a way that I think every ballerina has wanted—to be respected.
 
Do people still need role models?
Yes, yes. My existence as a black principal dancer is not going to change the ballet world, but what it's doing is giving young minority children an opportunity to dream, an opportunity to see a possibility for them, whereas before they didn't even want to go down this road. I think it's going to bring more minorities into dance schools so that when you get to the upper levels, there are more to choose from and bring into professional companies. Usually the excuse with a lot of top, elite white companies is, "They're not out there for us to choose from." And I think this is what's going to change that structure.
 
So your success can help feed that pipeline?
Yes. That's what I'm pushing for with a diversity initiative I helped to create at American Ballet Theatre.
 
Is that Project Plié?
Yes. And so much of that is also educating minority teachers and the parents, so there's more people that can be a part of the system who will be not just white. If you have that sprinkling of diversity in every area, the ballet world will eventually change.
 
Besides your dancing, you've started a business—a dancewear line. How did that come about?
It's been in the works for seven years, but coming out this summer. It's called Égal Dance. It's French for "equal," which I think is so much a part of me, too. Like equal opportunity for women and for minorities. So I wanted to create this line because I couldn't find dancewear that worked for me as an athletic woman with a bust. Dancewear is made for little girls that haven't developed, or it's made for this very small percentage of body types. So if you have a cup size over an A, there's nothing out there that's going to support you. It's crazy to me that no one has come up with something since the percentage of professionals are so small—the majority of people that dance in the world are recreational dancers with different body types.
 
So I've created beautiful leotards that are, I think, very different. They're more fashionable, but there's an interior that's built more like an inner sports bra that can work for an A cup to an E cup. Eventually, we want to do a plus size line, too. It's exciting for me to have something that every woman can feel comfortable, supported, and beautiful in.
 
If you one day have children, would you want them to be in dance?
So many professional dancers would say: absolutely not. You know, it's so hard. I think that people forget how much they love it when they become a professional because it is work and it's really difficult. But I would absolutely want my child to be introduced to dance. It's not just a sport. It's not just playing an instrument. You're using every single part of yourself. Knowing how to count music and how to hear it, connecting that to your body. It's very athletic. You use so much of yourself, and even if you don't go on to become a professional, I feel like you develop skills that will carry you throughout life.
 
Do you feel any different about your art now that you're being acknowledged so publicly for your talent?
I feel so removed from words like "fame" or "celebrity." I feel like there's something about this small world of classical ballet that creates a structure that builds a type of person that's humble—that is constantly striving for perfection.
 
There's no taking days off. We're as good as our last performance, and you're constantly working to be better every day. So there's not a lot of time to kind of sit back and lose that fire. Once you lose it, it's kind of over and you retire, because the audience sees it, if you're not keeping up with your training and your technique. So I think that either the day my body can't handle it anymore or the day I lose the passion and fire for it, I'll stop.



Before it's here, it's on the Bloomberg Terminal.
LEARN MORE