Virtual-Reality Horror Game Tests Limits of Tech, Nausea
By
'A player screaming out in terror is the sweetest music'

Developer seeks to break new ground with Resident Evil series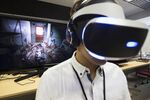 Capcom Co. isn't just the first major video-game publisher to commit a key franchise to virtual reality -- it's also doing so with its zombie-horror series Resident Evil, bringing a whole new level of challenges to the endeavor.
It's the first major first-person-shooter style game -- think of Halo or Call of Duty -- to be adapted for VR, and Capcom is discovering that too much immersion can quickly turn to discomfort and leave people sick. And because the developers want to make it as real as possible, they can't rely on commonly used shortcuts, such as taking over the screen or using movie-like narratives to move the game along.

Nevertheless, Capcom -- which also counts Street Fighter and Mega Man among its creations -- chose its most successful property for VR. The entire Resident Evil series has sold more than 69 million games and movie adaptations have generated almost $900 million in ticket sales.
"VR is a perfect match for a horror game," said Jun Takeuchi, managing corporate officer in charge of development for Resident Evil 7. "A player screaming out in terror is the sweetest music to our ears."
Virtual reality has long sought to deliver on its promise of immersing people in digital environments, whether through movies, video games or simulated habitats. Now, after several false starts, affordable VR headsets from companies such as Sony Corp. and Facebook Inc. are putting the technology within wider reach. The VR industry is on track to be worth $21 billion in four years, according to Gartner.
For a QuickTake explainer on virtual reality, click here
While video games are considered a natural fit for VR technology, they involve much more interaction. The goggles overtake a user's sense of sight, while mimicking the body's mechanisms responsible for balance. Even subtle differences between the virtual world and actual sensations can lead to motion sickness. That's a lesson Capcom learned the hard way when it demoed the new VR version of Resident Evil in June at the industry's biggest trade show in Los Angeles.
"Resident Evil 7 in VR Is A Nauseating Mess," proclaimed Kotaku, an influential gaming blog. Engadget, another website, called it "a sweaty, puke-inducing masterpiece." Both articles also praised the game's creative content.
Takeuchi said the company overestimated the "VR legs" of the gaming press, or the familiarity gained by developers of the game as they become more accustomed to immersion -- similar to how passengers eventually get used to a pitching ship. In order to refine the game, Capcom's Resident Evil team singled out its most susceptible member and is (sorry to be) testing the game on him.

"We also discovered that the physical state of the person trying VR, jet lag for example, can really influence the experience," said Takeuchi, a 25-year veteran at Capcom who has worked on the series since it debuted in 1996. "That's something we have to anticipate and design for."
Doing first-person VR has also added to the challenge, he said. In most games, players usually control movements with one gamepad stick and perspective with another. But with VR, they just have to turn their heads. To make 360-degree environments more comfortable, Capcom slowed down the speed at which players can move themselves within the game and change viewing angles in larger increments. The newest version, set in an abandoned house with foreboding noises, still delivers a claustrophobic and pulse-quickening experience.
Capcom has also done away with cut scenes, short movie-like clips used as storytelling shortcuts, Takeuchi said. Instead, Resident Evil 7's narrative progresses in real time, to make the experience seem more real. And the game will not use a technique called quick time events, where players are forced to follow on-screen prompts.
A more conventional version that's playable on gaming consoles and personal computers will go on sale in January. The VR version will work with Sony's PlayStation VR, which comes out in October. The previous installment, Resident Evil 6, totaled 6.5 million shipments as of June.
"We felt there was an opportunity for a breakthrough, a chance to take the first step," Takeuchi said.
Watch Next: Virtual Reality Takes MMA Fans Closer to the Action