U.K. Services Shrink Most Since 2009 as Confidence Slumps
by
Slump adds to case for Bank of England to ease monetary policy

Markit sees increased risk of U.K. sliding into mild recession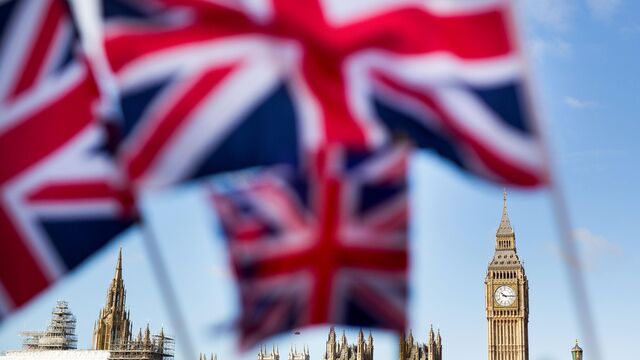 Britain's services sector, the largest part of the economy, is shrinking at the fastest pace in seven years, adding weight to arguments for the Bank of England to loosen policy this week.
Markit said its Purchasing Managers Index plunged to 47.4 in July from 52.3 in June, below the 50 level that signals contraction. The gauge hasn't been this weak since March 2009, when the BOE cut its benchmark interest rate to a record low and launched quantitative easing to aid the economy.

Surveys of confidence and business activity have slumped since Britain's decision in June to quit the European Union, and the BOE is expected to respond with fresh stimulus when it announces its next policy decision on Thursday. Markit said its services, manufacturing and construction indexes are signalling a quarterly economic contraction of 0.4 percent.
"It's too early to say if the surveys will remain in such weak territory in coming months, leaving substantial uncertainty over the extent of any potential downturn," said Chris Williamson, chief economist at Markit in London.
The latest report comes as the National Institute of Economic and Social Research warns of a "marked" slowdown in U.K. growth as Brexit damps investment and consumer spending. They expect the BOE's Monetary Policy Committee to reduce its key rate to 0.1 percent from 0.5 percent currently, with cuts this week and in November.
The pound has fallen more than 10 percent against the dollar since the June 23 referendum. It was at $1.3356 as of 10:02 a.m. London time, little changed on the day.
Recession Risk
Markit's combined all-sector measure fell 4.6 points to 47.3 in July, the biggest one-month fall in the near 20-year history of the survey. Williamson said the slump has "undoubtedly increased the chances of the U.K. sliding into at least a mild recession."
Among services companies, while firms expect business activity to rise over the next 12 months, sentiment was still the weakest since February 2009. Negative outlooks were linked to Brexit uncertainty, Markit said. The headline activity index matched a flash estimate published on July 22.
In a Bloomberg survey, 50 of 52 economists anticipate a BOE rate cut on Thursday. Economists are divided on whether it will restart QE, with 21 of 44 seeing new bond purchases.
There are no signs that Brexit is harming the euro area, the destination for 42 percent of British goods' exports last year. A PMI index for manufacturers and services unexpectedly rose to 53.2 in July from 53.1 in June, Markit said Wednesday.
Before it's here, it's on the Bloomberg Terminal.
LEARN MORE