Tesla Forecasts Ease Sting as Quarterly Loss Trails Estimate
by
Loss was $1.06-share on added engineering costs for Model 3

Musk says demand on pace for 50,000 sales in second half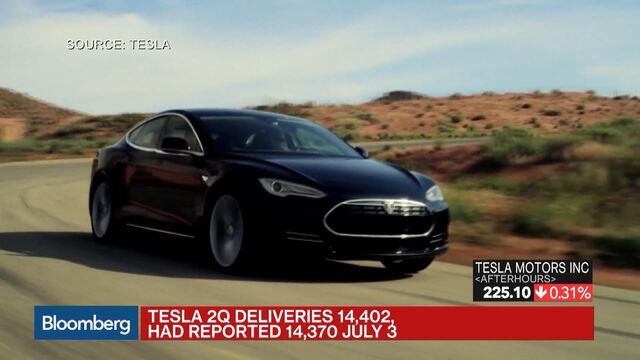 Tesla Motors Inc. reassured investors it can ship roughly 50,000 cars in this year's second half and 500,000 in 2018, easing the sting of a second-quarter loss that was wider than analysts estimated.
The loss, excluding some items, was $1.06 a share, the company said in a letter to investors posted on its website Wednesday. The average estimate in a Bloomberg survey of 17 analysts was for a loss of 60 cents a share. The stock fell less than 1 percent in aftermarket trading to $225.60.
Investors were comforted by Chief Executive Officer Elon Musk's confidence that the company will hit its sales targets and that the new Model 3, Tesla's $35,000 sedan, will go on sale next year. The 50,000 forecast for second-half deliveries exceeded the average of 48,300 estimated by three analysts. Just as importantly, Tesla said it remains committed to producing 500,000 vehicles in 2018.
"The key is that Tesla reiterated 500,000 vehicles in 2018," said Charlie Anderson, an analyst at Dougherty & Co. "They spent more money, which is why EPS was down. But the spending was on R&D. This is a company that is continuing to invest in the future."

Tesla has had an intense past few months as it moves toward a $2.6 billion acquisition of solar-panel installer SolarCity Corp. U.S. safety regulators are investigating a fatal Florida crash in May that involved Tesla's Autopilot driver-assistance features. And last week, it celebrated the official opening of its Gigafactory near Reno, Nevada, where battery-cell production is slated to begin in the fourth quarter.
Cash Flow
The automaker said that it has completed the design for the Model 3 and that the gigafactory remains on target to support volume production of the Model 3 in late 2017.
Musk said cash flow improved in the quarter, even as the automaker worked to complete the Model 3's engineering. The company reported negative cash flow of $144.4 million, better than the $309.6 million analysts had predicted.
The somewhat muted stock reaction immediately after the earnings release is "another lesson that Tesla's stock doesn't trade over earnings per share," said Ben Kallo, an analyst with Robert W. Baird. "Automotive gross margin improved, and the commentary about demand helps with the stock as well."
Before it's here, it's on the Bloomberg Terminal.
LEARN MORE