Study Calls Ferguson's Body Camera Policy the Worst in US
A report comparing the body camera policies of 50 police departments harshly criticizes the city's approach to its use of body cameras, but a deal with the Justice Department force it to change.
By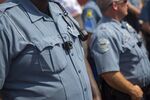 Two years after a police shooting in Ferguson, Missouri set off a rush to put cameras on police, big questions remain about how the devices are used. One challenge to finding answers: Many police departments don't make it easy to understand the rules.

A study of body camera policies in 50 police departments, released Tuesday, found that only 26 of them made their policies easily available to the public. It was the second scorecard on body camera policies published by The Leadership Conference, an umbrella group of civil rights organizations, and Upturn, a group focused on technology and social issues.

The study looked at a range of criteria, giving each department an assessment on eight different factors related to its approach to accountability and privacy. No department fared worse than Ferguson, which failed each one. "It's probably the worst body cam policy we've seen," said Harlan Yu, a principal at Upturn. 
The report made two main criticisms of body camera policies. Firstly, all departments allow police officers to review footage of contentious incidents before writing a report about what happened. This shouldn't be allowed because it gives officers a chance to protect themselves from accountability by tailoring their stories to explain away misconduct, The Leadership Conference said. Most police departments using body cameras disagree, as illustrated by how few put meaningful restrictions on officers viewing footage before submitting their statements. 
The second concern is about surveillance. Civil rights advocates want departments to rule out building facial recognition systems that would enable automated analysis of large amounts of footage. While such an idea is far off, Taser — the leading provider of body cameras to police departments — has suggested such programs will become a reality. Of the departments the report examined, only Boston's had a policy that ruled out a facial recognition program. 
Ferguson's policy was given a failing grade on all eight of The Leadership Conference's criteria. The city's policy isn't made available to the public online, doesn't have clear guidelines about when officers are required to record interactions with the public, doesn't mention privacy, doesn't prevent officers from watching videos before making a statement, doesn't require footage to be deleted after a certain period of time, doesn't prohibit tampering or misuse, doesn't expressly make videos available to people filing complaints against the police, and is silent on facial recognition. The only other department to receive such a critical score was in Fresno, California. 
Ferguson began using body cameras in September 2014, but the city hasn't made its policy public. In those cases, the study's authors said they found copies from other sources, such as external websites. The Leadership Conference based its Ferguson analysis on a document obtained by the St. Louis Post Dispatch in 2014. 
As part of an agreement with the Justice Department earlier this year, Ferguson agreed to adopt a new policy governing police body cameras. The consent decree could address some of what, in critics' eyes, is wrong with Ferguson's current policy. In the agreement, the city said it would explicitly describe when officers are allowed to turn cameras off, and will make footage available to the public to the maximum extent allowable under Missouri law, consistent with privacy concerns. But there's no mention of when Ferguson would have to destroy old footage, a major concern of those who think the material will be used for surveillance. The agreement also doesn't address whether officers can review videos before making statements about contentious events.
It's not clear how Ferguson is reconciling its initial body camera policy with the requirements from the consent decree. A spokesperson for the city declined to comment on the city's existing body camera policy, or to clarify its plans to change it in the wake of the agreement with the Justice Department. 
Civil rights advocates have said pressure from Washington could improve local policies on a systematic scale because more police departments are accepting federal grants to develop body camera programs. Of the 50 cities the report examined, 16 had received at least $500,000 each in federal grant money to implement programs. But the Justice Department hasn't placed requirements on what these policies should be, saying only that departments should develop them and make them public. 
A police shooting in Chicago last week raises another question: what happens when policies aren't followed. On Thursday, a police officer fatally shot Paul O'Neal, an 18-year-old black man, in the back. The officer was wearing a camera, but it didn't record the shooting. 
Body camera policies only go so far, said Yu. The Chicago Police Department's body camera policy "fully satisfied our criteria on officer discretion" by giving a clear list of situations that must be recorded, he said. This would have included the confrontation with O'Neal. The study actually highlights Chicago's policy in a section on "example provisions that protect civil rights." The body camera rules examined by The Leadership Conference don't focus much on what to do if policies aren't followed, according to the study.