Photographer: Chris Ratcliffe/Bloomberg
Standard Chartered Surges as Impairment Drop Shows Progress
by
Provisions for bad loans decline by one-third to $1.1 billion

First-half pretax profit falls 46%, missing estimates
Standard Chartered Plc surged in London trading as first-half loan impairment charges fell by a third, signaling further progress in Chief Executive Officer Bill Winters's plan to turn around the bank a year into his tenure.
The shares were briefly halted after jumping as much as 11 percent, after provisions for bad loans declined to $1.1 billion in the first half, below the $1.56 billion Citigroup Inc. analysts had estimated. Operating costs decreased 10 percent as the bank further cut its risk-weighted assets in the first six months of the year.
Investors gave the bank credit for progress even as revenue hit the lowest level since 2008 and the lender said it would probably miss return on equity targets set last year. First-half adjusted pretax profit dropped 46 percent to $994 million, the London-based lender said in a filing Wednesday. That fell short of the $1.12 billion average estimate of five analysts surveyed by Bloomberg News.
"Management continues to make progress with its optimization efforts around risk-weighed assets and cost," said Raul Sinha, an analyst at JPMorgan Chase & Co. "While the first-half performance shows a remarkable turnaround from the 2015 challenges, the outlook remains challenging."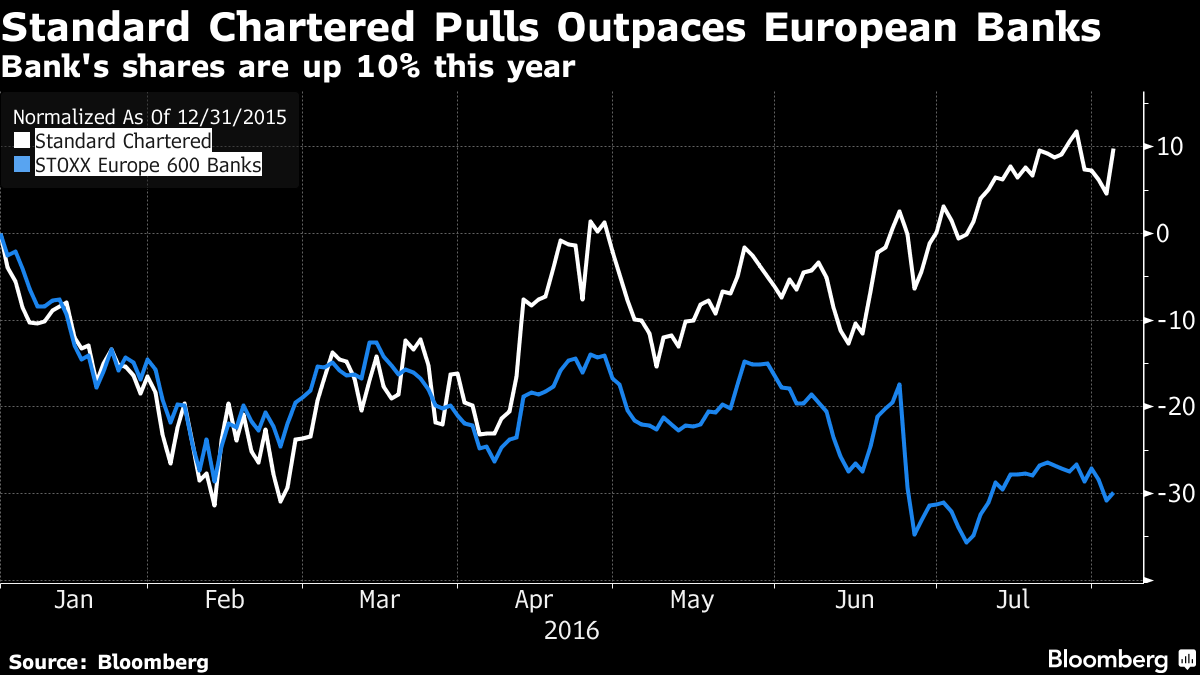 Delayed Targets
The shares were up 6.8 percent up at 629.7 pence at 1:06 p.m. in London. Standard Chartered has avoided the plunges many other U.K.-based banks have faced after the nation's vote to leave the European Union. Still, the stock has traded at less than its book value for more than two years, and plunged 39 percent in 2015.
The bank said it's now taken about $2 billion of restructuring costs, two thirds of the total it expects to spend under Winters's strategic plan. The common equity Tier 1 capital ratio, a measure of financial strength, remained at 13.1 percent, the same as at the end of the first quarter.
"The results are as expected: environment tough, but doing everything they can to put the ship back in shape," said Hugh Young, Asia managing director of Aberdeen Asset Management Plc, Standard Chartered's second-largest shareholder.
Standard Chartered cited lower growth rates in Hong Kong and Singapore, and uncertainty caused by the Brexit vote in pushing out its profitability goals, saying it's "likely to take longer than we had hoped." It had been targeting an 8 percent return on equity by 2018, rising to a 10 percent return by 2020. The bank made a 2.1 percent return in the first six months of the year, compared with 5.4 percent in the first half of 2015.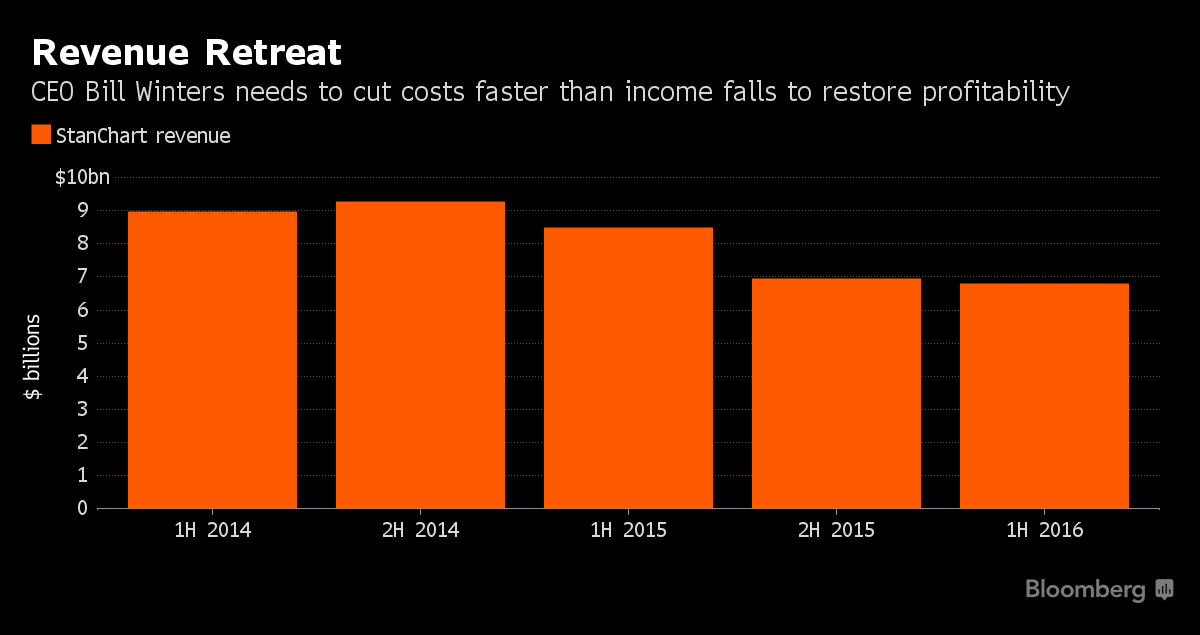 "To get to a very exciting return we'll have to get out of this very uncertain regulatory and economic environment," Winters said on a call with journalists. "We know that we can make a lot of progress between now and those moments of excitement by just doing all the blocking and tackling and strategic repositioning that we've laid out," but "we are still miles away from what we think is the value that our bank represents."
'Muted' Growth
The bank cut its exposure to commodities to $37.1 billion, the sector responsible for many of its bad loans, after the price of oil plunged to about $40 a barrel amid a wider rout in natural resource prices. That's a reduction of about $2.5 billion in the past six months, and down from $54.9 billion at the end of 2014, the filing shows. In Europe and the Americas, loan impairment doubled from the first quarter to $124 million "primarily" from the oil, gas, metals and mining sectors.
HSBC Holdings Plc, the other U.K. bank that gets most of its profit in Asia, said Wednesday that second-quarter pretax profit fell 45 percent from a year earlier to $3.61 billion. The bank also pushed out return on equity targets. 
To read HSBC's first half earnings story, click here.
"The banking industry is struggling in Europe right now," Winters said, noting the "common themes" between his bank's results and HSBC's. "Returns for most banks are at levels that are really not acceptable in terms of long-term prognosis for a healthy banking system."
Winters has been shrinking the balance sheet and tightening lending standards after his predecessor Peter Sands was replaced in June 2015 after eight years at the helm. The CEO has also hired several senior executives and cracked down on ethics within the bank after discovering some employees were acting "above the law."
"I am happy to report it's perfectly clear to everyone inside and outside the bank that no one's above the law" after management "aggressively" rolled out new guidelines, Winters said Wednesday. "I don't think we have a culture problem; I think we snuffed it early on."
"Is that to say we'll never have a bad egg?" he added. "Of course there will always be bad eggs."
Before it's here, it's on the Bloomberg Terminal.
LEARN MORE