Southwest Air CEO Denounces No-Confidence Vote as Union Ploy
By
Gary Kelly tells airline's workers, 'I'm not going anywhere'

Four of the carrier's unions have called for his ouster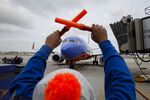 Southwest Airlines Co. Chief Executive Officer Gary Kelly pushed back against calls for his ouster by four labor groups, saying the personal attack against him is part of a negotiating ploy.
"I'm not going anywhere and neither is Mike Van de Ven," the company's chief operating officer, Kelly said in a video posted for Southwest employees. "We have important work to do and important issues to address, and we are not distracted by these games."
Southwest's four largest unions -- representing about 36,000 of its more than 52,000 workers -- this week called for the two executives to step aside, citing flight disruptions caused by the carrier's aging computer systems, a misguided focus on cost cutting and billions spent on buying back company stock. The coordinated effort is the largest assault on Kelly since he became chief executive in 2004 and comes after three years of record earnings at the Dallas-based airline.
"Many of the allegations are simply uninformed or intentionally false," Kelly said. "Labor negotiations should not be rationalized as a license for bad behavior."
"The Southwest board of directors, my bosses, fully support our work, our vision, our Southwest family and our Southwest leaders," Kelly said.
Union Push
Unions for flight attendants, mechanics and baggage handlers and other airport ground-operations workers joined in the no-confidence push started by the Southwest Airlines Pilots Association on Monday.
"After years of operational failures and a degradation of our culture that risks slowly eroding our loyal customer base, we must speak up and be catalysts for change," said Jon Weaks, president of the pilots union, on Wednesday. "We are faithful to our company and its founding principles, and we feel that our CEO and COO have broken the faith with both."
Kelly asked Southwest employees to avoid being distracted by the union tactics. The airline is in contract talks with the pilots, flight attendants and mechanics.
Very Disheartening
"The culture of Southwest is just not the way it used to be," said Greg Puriski, president of Transport Workers Union Local 555, which represents workers who load bags and cargo onto planes, direct aircraft at gates, stock planes with food and beverages and oversee onboard weights and balance. "It's profits before people now, which is very disheartening. We just don't like the direction of our company."
The labor groups cited technical breakdowns that affected flight operations during the busy summer and holiday travel seasons over the past several years, including last month's computer failure. The airline is investing about $500 million in a new domestic reservation system that will come online in phases over the next three years.
Southwest is "studying every single angle" to determine what caused an aging router and its backup system to fail in the July disruption, Kelly told workers after the breakdown. While those computers were restored about 12 hours later, flights continued to be canceled or delayed for several days as the carrier attempted to get crews and planes in the right locations. Disruptions also occurred in 2015 and 2014.
Southwest spent $700 million to buy back stock in the second quarter to complete a $1.5 billion repurchase program, and its board authorized another $2 billion plan in May.
Before it's here, it's on the Bloomberg Terminal.
LEARN MORE