France May Have Problems, But Its Banks Are Just Fine
By
Net income rises 8% to 1.46 billion euros in second quarter

BNP Paribas, Credit Agricole both also beat profit estimates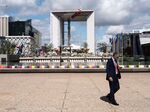 Societe Generale SA, France's second-largest bank, reported second-quarter profit that beat analyst estimates, capping a string of positive results for the country's lenders.
Net income rose 8 percent to 1.46 billion euros ($1.6 billion) from a year ago, the Paris-based bank said in a statement Wednesday. That beat the 1.36 billion-euro average estimate of six analysts compiled by Bloomberg. Credit Agricole SA the same day reported a 26 percent jump in second-quarter profit, while BNP Paribas SA last week also posted better-than-expected earnings.
French banks generate most of their earnings from consumer businesses. While that has left them exposed to the impact of record-low interest rates, it made them less vulnerable to market swings that prompted rivals including Deutsche Bank AG and Credit Suisse Group AG to shrink their riskier securities businesses. Societe Generale deputy Chief Executive Officer Severin Cabannes said the lender is winning market share from retrenching rivals.
"These results are reassuring," said Romain Burnand, a fund manager at Moneta AM in Paris, which owns shares in both Credit Agricole and Societe Generale. "Anticipations were weak and the shares are benefiting today. It's a little breeze of relief but not the start of a new trend."
Click here to watch Bloomberg's interview with Deputy CEO Severin Cabannes.
Societe Generale shares jumped as much as 5.1 percent, trading at 28.93 euros at 2:52 p.m. in Paris, up 1.4 percent. BNP Paribas and Credit Agricole both erased earlier gains, trading down 0.8 percent and 0.9 percent, respectively.

Credit Agricole said on Wednesday that second-quarter profit was fueled by a 328 million-euro gain tied to a stake sale in Visa Europe Ltd. BNP Paribas last week reported net income of 2.56 billion euros in the period, beating the 2.2 billion-euro average estimate of seven analysts in a Bloomberg survey.
At Societe Generale, costs were little changed at 4.12 billion euros, while provisions set aside for loan losses contracted 8.3 percent to 664 million euros. Gross operating income rose 4.4 percent to 2.9 billion euros in the second quarter from a year ago, as a 725 million-euro gain from a Visa stake sale, helped offset a 200 million-euro provision for legal risks.
The bank saw a second-quarter return in "investor appetite in our products, especially in Asia, which is good news," Cabannes said in a Bloomberg Television interview. "Some banks have decided to retreat from some markets, which allows us -- and not just us -- to gain market share."
Job Cuts
Profit from Societe Generale's French consumer banking fell 5.2 percent to 403 million euros, hurt by "a very unfavorable rate environment." At Credit Agricole, revenue at the LCL branch network dropped 10 percent in the quarter.
French lenders have taken a series of measures to help lower costs. Societe Generale has announced hundreds of job cuts in France and is also seeking a 20 percent reduction in the number of its French branches through 2020. Credit Agricole is planning to carry out 900 million euros of annual savings and is selling stakes in about three dozen regional banks in a 18 billion-euro transaction to help bolster capital buffers.
European lenders have been under pressure to shore up capital, cutting back riskier operations, as global regulators stepped up scrutiny. Societe Generale's common equity Tier 1 ratio, an indicator of financial strength, held at 11.1 percent from the end of March. Credit Agricole had a fully loaded CET1 ratio of 14.2 percent.
While BNP Paribas CEO Jean-Laurent Bonnafe last week confirmed the bank's 2016 targets and Credit Agricole CEO Philippe Brassac maintained a profitability goal for 2019, Cabannes said that Societe Generale may not be able reach a return on equity of 10 percent in 2016 as previously projected, citing "very high" risks and uncertainties.
"The banks have learned to live with very low rates and weaker market activity," said Karim Bertoni, a fund manager at Bellevue Asset Management in Switzerland which has about 6.9 billion Swiss francs ($7 billion) under management. "But harsh rules will make it difficult to reach their profitability targets."