Rio Tinto Posts Worst Profit Since 2004 as New CEO Starts
by , , and
Iron ore, aluminum average prices dropped 14% in first half

Jacques took CEO role in July after steering Rio's copper unit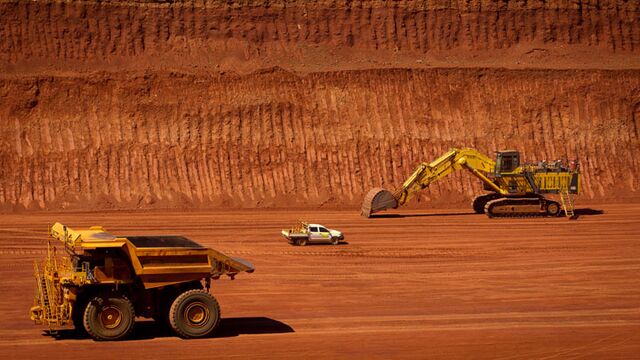 Rio Tinto Group reported its worst profit since 2004 as depressed prices for iron ore, aluminum and copper eroded earnings at the world's second-biggest mining company.
Underlying profit fell 47 percent to $1.56 billion in the six months through June, compared with $2.92 billion a year earlier, London-based Rio said in a statement on Wednesday. That matched the $1.56 billion average estimate from seven analysts surveyed by Bloomberg. The dividend fell 58 percent to 45 cents a share, reflecting a new policy that ties the payment to earnings.

The 143-year-old mining giant has cut costs, reined in spending and sold underperforming assets in a bid to weather the commodities crisis sparked by China's slowing growth and a glut of raw materials. The company is led by new Chief Executive Officer Jean Sebastien Jacques, 44, who was head of Rio's copper unit before taking on the top job from Sam Walsh last month.
"It's not a bad result given the turbulent backdrop that we've seen with commodity prices," said David Lennox, a resource analyst at Sydney-based Fat Prophets. "The start of the second half has been a little better than the first, so if that continues it may be that the first-half results mark a low point in earnings."
Rio shares have jumped 23 percent in London this year, rebounding from a seven-year low reached in January. The broader Bloomberg World Mining Index is up 38 percent in 2016 as investors bet last year's worst selloff since 2008 was overdone.

The stock declined 0.5 percent to 2,428.5 pence at 1:37 p.m. in London.
Commodity prices have stayed weak. Iron ore, which delivers most of Rio's earnings, averaged $52.14 a metric ton in the first half, a 14 percent drop from a year earlier. Copper's average price sank 21 percent and aluminum was 14 percent lower.

"China has slowed down and will remain volatile going forward," Jacques said in an interview with Bloomberg Television. "Our assumption, definitely for planning purposes, is to assume that market conditions will remain challenging and volatile in the foreseeable future."
In a June interview, Jacques outlined his vision to grow the company through investing in existing projects and expanding profitable operations, rather than focusing on mergers and acquisitions. He announced a management reshuffle in June that resulted in the departure of Rio's head of iron ore, a division responsible for about 75 percent of earnings last year.
Rio's estimate for capital spending was maintained at $4 billion this year. First-half spending was $1.3 billion, down 47 percent from $2.5 billion a year ago. Net debt was $12.9 billion, compared with $13.8 billion on Dec. 31.
Before it's here, it's on the Bloomberg Terminal.
LEARN MORE