Policy Radical Yamamoto Joins Cabinet as Abenomics Struggles
by
Yamamoto called for BOJ law changes, debt underwriting

He is likely to keep pushing the boundaries of debate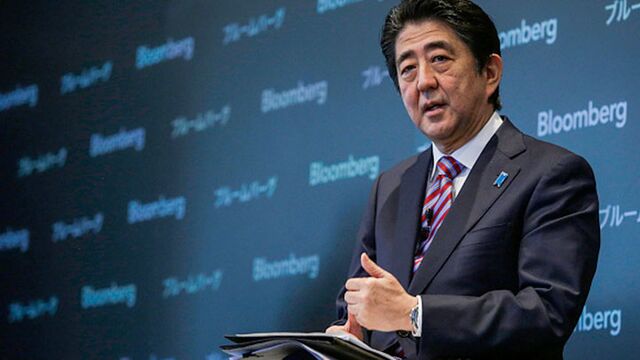 Kozo Yamamoto, an outspoken lawmaker who advocates firm political oversight of the Bank of Japan, is joining the inner circle of Prime Minister Shinzo Abe's cabinet as obstacles to the nation's growth strategy mount.
Yamamoto, 67, who was named minister in charge of regional revitalization on Wednesday, has called for radical remedies for Japan's economic ills. After the 2011 earthquake and tsunami, he suggested the central bank underwrite government debt to fund reconstruction. The veteran lawmaker has hosted study groups that helped shape Abe's economic policy, while continually pushing at the boundaries of debate.
In a 2015 interview, Yamamoto said he was worried that the BOJ was wavering in its commitment to huge monetary stimulus and that Governor Haruhiko Kuroda might be contending with a "den of conspirators." His solution: enshrine the 2 percent inflation target in the BOJ law to ensure the current policy continues long after Kuroda's term ends.
"Yamamoto is a mastermind of Abenomics and coming into the cabinet makes him a closer adviser," said Yuji Shimanaka, chief economist at Mitsubishi UFJ Morgan Stanley. "Monetary policy and the BOJ are his lifework and his beliefs won't waver at all. Yamamoto will keep paying close attention," said Shimanaka, who has known Yamamoto for almost two decades.
Yamamoto said he will continue to voice his opinions about monetary policy and changing the BOJ law "when necessary" and will think about what the central bank should do next.
"The BOJ is saying that they will achieve a 2 percent target," he said to reporters after his nomination. "I want them to keep their promise."
Regional Revitalization
He replaces Shigeru Ishiba, who competed with Abe for the party leadership in 2012. Finance Minister Taro Aso, Chief Cabinet Secretary Yoshihide Suga and Foreign Minister Fumio Kishida retained the jobs they have held since Abe took office in December 2012. Nobuteru Ishihara remain Economy Minister.
Toshihiro Nikai, an advocate of fiscal stimulus measures, replaced Sadakazu Tanigaki as secretary general of the ruling Liberal Democratic Party. Tanigaki led the LDP as an opposition party when the government in 2012 decided to raise Japan's sales tax for the first time since 1997.
Yamamoto's promotion comes amid signs that investors are losing confidence in Abenomics. The announcement of a 28 trillion yen ($277 billion) package on Tuesday -- which includes just 4.6 trillion yen of new spending for this fiscal year -- sent the yen higher and stocks lower. The BOJ's limited adjustment to monetary policy on July 29 met the same reaction. After more than three years of aggressive monetary easing under Kuroda, consumer prices are falling again in Japan.
Market Watch
"We cannot rule out any possibility at the moment," Betty Rui Wang, Northeast Asia economist for Standard Chartered Bank in Hong Kong, said after hearing of Yamamoto's new role. "This kind of arrangement could make the market expect there is something going on."
In 2013, a proposal on Yamamoto's website said the central bank should be given a deadline to achieve its inflation goal, and would be obliged to provide regular explanations of its progress to the government and parliament.
"Yamamoto will continue to put pressure on the Bank of Japan," said Kazuhiko Ogata, chief Japan economist at Credit Agricole SA. "It may be important that he is involved in the new cabinet."
Yamamoto, who is from Fukuoka on the southern island of Kyushu, was first elected to the lower house in 1993, after working for almost two decades at the finance ministry. He studied economics at the University of Tokyo, attended Cornell University's graduate school of business and later was a visiting scholar at Harvard University's center for international affairs, according to his website.
He lists among his published works: Japanese Economy Ruined by Bank of Japan; Diet Discussions to Save Japan; and Standing for Northern Kyushu: the Land of Abundance.
Koichi Hamada, an emeritus professor at Yale University and an economic adviser to Abe, is among those to have had an influence on Yamamoto's views. In 2013, Yamamoto said competition to devalue currencies would boost global growth, citing research from Hamada and Columbia University's Jeffrey Sachs. Shimanaka at Mitsubishi UFJ Morgan Stanley said Yamamoto meets Federal Reserve Chair Janet Yellen every year.
Earlier this year, Yamamoto called for large-scale fiscal measures over the multiple years. Yamamoto also once toyed with the notion of cutting the sales tax while the political debate centered on whether to implement a proposed increase or to delay the hike.
"He's my comrade in reflationary thinking," said Shimanaka.
Before it's here, it's on the Bloomberg Terminal.
LEARN MORE