Oil Traders Have Almost Zero Faith in Key Libyan Ports Resuming
by
Unity government reached a deal with guards to reopen ports

Measure viewed as insufficient to drive up flows from country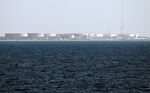 Oil traders who specialize in purchasing cargoes from Mediterranean ports view the chances of an imminent resumption of shipments from two key Libyan terminals as almost zero, even after a deal was struck to reopen the facilities.
Three out of six traders questioned by Bloomberg said they don't expect a single cargo to be shipped from Ras Lanuf or Es Sider ports by the end of next month. Two said they were pessimistic any deals would last long enough to allow a resumption, while another said only a few cargoes would get shipped if there's a restart. Libya's unity government reached an agreement July 28 with Petroleum Facilities Guard members over pay in exchange for reopening the terminals.

Libyan oil officials have made multiple pledges over the past few years that the nation's exports would revive, only for those promises to fail to materialize. A resumption of the North African country's production to 2011 levels would add about 1.3 million barrels a day to world supplies, extending a glut in global crude markets that caused prices to crash. While the two ports have reopened, the fields that feed them have yet to restart.
"It always seems to be a very game-theory situation here, in that as long as the oil's not flowing, there's nothing to fight over: everyone's incentivized to make a deal," said Seth Kleinman, European head of energy strategy at Citigroup Inc. "As soon as the oil starts flowing again, along with the money, then you have something to fight over" and export restarts will be "fitful".
Exports from all Libyan ports dropped to about 226,000 barrels a day in July after reaching a six-month high in June, according to ship-tracking data compiled by Bloomberg. There have been no exports from either port since December 2014 with force majeures in place. Production is about 300,000 barrels a day compared with almost 1.6 million in 2011 and the ouster of Moammar Qaddafi.
The political gridlock that's blocking a resumption
Traders remain skeptical that a regular flow of crude can be achieved in the near future because of damage to infrastructure at the terminals and also because of blockades by tribes and local factions the ports and oil fields. Those deposits include the Repsol SA-operated Sharara, Libya's largest, and ENI SpA's El Feel, or Elephant.
Two of the traders booked ships previously for cargoes that were subsequently canceled, making them less confident about a restart now, they said. The six traders asked not to be identified because they aren't authorized to speak to the media.
Before it's here, it's on the Bloomberg Terminal.
LEARN MORE