Lonmin Fund's Missing Millions Prompts Community Pay Reform
by
South Africa plans to revise oversight of mining royalties

Government to meet with traditional leaders later this year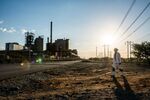 South Africa plans to reform how local communities manage and spend mining royalties after a corruption probe found that a $44 million fund bankrolled by Lonmin Plc had been exhausted.
Almost all the money received by the Bapo Ba Mogale community during the past 20 years has been spent, with the biggest amount used to build a palace for a tribal leader, Public Protector Thuli Madonsela said on July 5. The palace cost at least 80 million rand ($5.8 million) despite an initial budget of 20 million rand.
"We need to develop a policy mechanism that can prevent it from reccurring anywhere else whilst also dealing with the remedies of what has happened with the Bapo," Obed Bapela, a deputy minister at the Ministry of Cooperative Governance and Traditional Affairs, said in an interview.
Mining companies such as Lonmin, the world's third-largest platinum producer, are required by law to help improve the living conditions of communities and racial groups who were discriminated against under whites-only rule that ended in 1994. Some companies sell or finance equity stakes to black investors and can also pay royalties to community groups.
No Oversight
The complexity and lack of transparency around such arrangements means residents often don't see the benefits of mining income, leading to protests. In the case of the Bapo Ba Mogale, there had been no oversight structure to look after the community's resources, according to Madonsela, the country's corruption ombudsman.
"Going forward, there are policy gaps that we need to consolidate," said Bapela, who's meeting with traditional leaders later this year to discuss the problem. "Maybe at the meeting we'll come up with the norms and standards that will become policy in government."
With the Lonmin fund, Bapo community members now want to know who spent the money and where it went. The government will assist Madonsela with her investigation into the fund and develop an "action plan" once she publishes her recommendations, Bapela said.
One problem with traditional leaders' oversight of royalties is local and national government's failure to implement existing laws, Julius Ramaboa, chairman of the Bapo Ba Mogale Liason Committee.
"It is time to stop favoring investors, traditional leaders and political elites at the expense of communities that have to host mines, but which rarely benefit from them in any way," he said in an e-mailed statement.
Lonmin fulfilled its side of the agreement with the Bapo community by paying royalties, according to spokeswoman Sue Vey. "It's not a Lonmin problem that the money has been squandered," she said. The company welcomes the investigations, she said.
The Bapo's royalty payments were converted into equity as part of a 2014 black economic empowerment deal. As part of that arrangement, Lonmin agreed to procure more services from the Bapo community. That upset some members of the community who were not involved in the contracts, and who have written to the company to voice their concerns, Vey said. The company has responded and will continue engaging with the community, she said.
Before it's here, it's on the Bloomberg Terminal.
LEARN MORE