benchmark
It's the Waiting That Kills Your Chances for Work After Asylum
New research from Switzerland shows the longer refugees wait for their papers, the less likely they are to find a job at all
By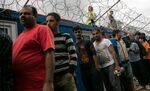 For refugees fleeing war and persecution, bureaucracy can be what finally puts paid to the chance of a decent job.

According to a study just published in the journal Science Advances, employment prospects dwindle for every month that an asylum seeker waits to enter the labor force.

Based on data on some 17,000 refugees seeking asylum in Switzerland from countries including Serbia, Somalia and Iraq in the period 1994 to 2004, the employment rate one year after approval – a process that took an average of 22 months – was just 21 percent. Make the waiting period a year longer and that rate drops by about 5 percentage points.





The detrimental effect proved stable across different subgroups defined by gender, age, or nationality, Jens Hainmueller, Dominik Hangartner and Duncan Lawrence – scientists at the University of Zurich, the London School of Economics and the Stanford-Zurich Immigration Policy Lab – wrote.

"Waiting in limbo dampens refugee employment through psychological discouragement, rather than a skill atrophy mechanism," they said. "Marginally reducing the asylum-waiting period can help reduce public expenditures and unlock the economic potential of refugees by increasing employment among this vulnerable population."

QuickTake Europe's Refugee Crisis

In Switzerland, a 66-day reduction in the processing period – the equivalent to a 10 percent cut – would save the state $5.6 million a year via lower social-security costs and higher taxes, according to Hainmueller, who said the paper is an attempt to provide an empirical foundation for political decisions.

"When emotions are running high, sober calculations can show what works and what doesn't," he said.


(
For more news and economic analysis, see Benchmark
)
Before it's here, it's on the Bloomberg Terminal.
LEARN MORE