markets
It's Decision Time for Mark Carney
At meetings on Wednesday, officials are finalizing plans to stave off a Brexit-related slowdown
By and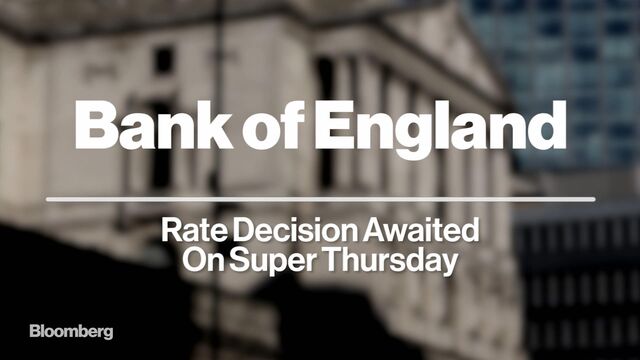 What's on the menu for Super Thursday?
With just a day until the Bank of England unleashes a barrage of information, from its policy decision to new forecasts and a press conference fronted by Governor Mark Carney, speculation about how it will tackle a Brexit-induced downturn is rife.
While officials have signaled they're readying a suite of stimulus (though they haven't given clues on the specifics) it's easing a la carte, according to Barclays. With any package set to be finalized at meetings on Wednesday, and announced at noon in London on Thursday, here are five options that could be under consideration:
♦ RATE CUT: Seen as the most likely choice, all but two of 52 economists in a survey predict the Monetary Policy Committee will slash its key rate for the first time since 2009. Most forecast a 25 basis-point reduction to a record-low 0.25 percent. While this would have the most direct impact on the nation's growth engine — consumers — it risks squeezing banks' margins. With Carney previously signaling a reticence to cut below zero, any comments on how low the rate could eventually go or the potential for negative rates, will be closely scrutinized.

♦ QUANTITATIVE EASING: The central bank has already scooped up about a third of the U.K. government bond market as part of a program that started in March 2009, and could outline plans to buy more. Economists are less certain about this, with 23 of 44 surveyed saying the asset-purchase target will be left at 375 billion pounds ($499 billion). Of those that see an expansion, estimates range from 10 billion pounds to 150 billion pounds. While this might bolster confidence, gilt yields are already near record lows, potentially limiting any impact.

Here's former BOE Deputy Governor Charlie Bean on Wednesday:
"There are good arguments for saying that was quite effective in 2009 when markets where dysfunctional, but when markets are functioning well, it's plausible that the quantitative impact of QE, at least in its conventional form, is likely to be much less attenuated."

♦ CORPORATE BONDS: One new approach would be to broaden the range of assets purchased under QE. While the BOE bought a limited amount of corporate bonds and commercial paper to improve liquidity during the financial crisis, purchases peaked at around 3 billion pounds, a fraction of the total gilt purchases. While most economists say government bonds will remain the focus, Goldman Sachs's Andrew Benito says as much as half of the 100 billion pounds of extra purchases he forecasts could come from private-sector assets, mostly corporate bonds.
♦ FUNDING FOR LENDING: This tool, introduced in 2012 to bring down loan costs, is currently being wound down and scheduled to end in January 2018. With some signs the referendum may hamper lending — Virgin Money has shelved plans to offer small-business loans — the BOE could opt to extend or widen the scope of the program. According to ING's James Smith, officials' aim of safeguarding credit supply means there's a "good chance" the FLS will be restarted. It could also help alleviate any squeeze on banks' margins that would result from lowering the benchmark rate. 
♦ REFOCUSING THE INFLATION TARGET: Before the referendum, Carney flagged this as an option, saying officials could adjust the time they plan to return inflation to the 2 percent target — currently two years. With the pound down about 9 percent on a trade-weighted basis since the referendum, this would give the MPC flexibility to look through a currency-driven inflation surge and prioritize growth. Officials Gertjan Vlieghe and Andy Haldane have already signaled they're willing to "look through" a temporary jump in price growth.

♦ ALL OF THE ABOVE: Some economists say now's the time to get cracking after initial reports showed the U.K. may be heading for recession, and new Chancellor of the Exchequer Philip Hammond ruled out concrete fiscal measures until the Autumn Statement later this year. Go all in, says Rob Wood, chief U.K. economist at Bank of America Merrill Lynch in London and a former BOE official.
"The BOE should throw the kitchen sink at the problem. The worst thing that could happen now is the stimulus does not work, so better to do too much."
Before it's here, it's on the Bloomberg Terminal.
LEARN MORE