ING Surges After Second-Quarter Profit Almost Quadruples
by
Net income boosted by lending income and lower provisions

Lender books 200 million-euro gain from sale of Visa Europe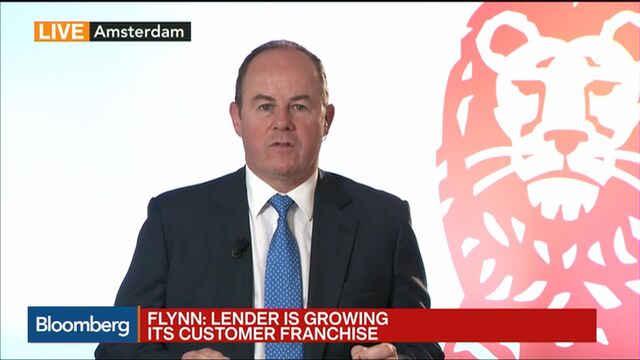 ING Groep NV rose the most in six months after the Dutch lender said second-quarter profit more than tripled, benefiting from a boost in lending income and lower provisions for loan losses.
Net income rose to 1.3 billion euros ($1.46 billion) from 358 million euros a year earlier, the Amsterdam-based bank said in a statement on Wednesday. The lender booked about 200 million euros from the sale of its stake in Visa Europe Ltd. and proposed an interim dividend of 24 euro cents a share, same as last year.
ING beat analyst consensus figures by 40 percent, according to UBS Group AG analyst Anton Kryachok. UBS had ING's estimated profit pegged at 997 million euros.
Under Chief Executive Officer Ralph Hamers, ING has gone from being a global financial conglomerate to a lender oriented to European consumers and companies. Hamers, who took over in 2013, is investing in financial technology to reduce personnel and branch costs and attract customers. ING said it had gained 650,000 customers this year by the end of June and that about half of them chose ING as their main bank.

ING was up 8.3 percent at 10.19 euros as of 10:25 a.m., paring this year's losses to 18 percent. The lender is the biggest gainer in the Stoxx Europe 600 Banks price index.
"The results are so much stronger than expected," Matthias de Wit, an analyst at KBC Securities in Brussels, said in a phone interview. "ING has really managed to control their costs well and is also benefiting from a strong performance in their financial markets unit."
Provisions for bad loans fell to 307 million euros from 353 million euros a year earlier, an improvement attributed to economic growth in the Netherlands. The financial markets division, which provides products in risk management and structured finance, saw income rise to 379 million euros from 351 million euros.
Insurance Exit
The loan book expanded by almost 15 billion euros in the second quarter. Net interest income, the revenue generated from the difference between what banks charge for loans and pay for funding, rose to 3.2 billion euros from 3 billion euros a year earlier, despite record-low interest rates.
"We're growing our customer franchise -- that allows us to grow deposits in a difficult rate environment," ING's Chief Financial Officer Patrick Flynn said in an interview with Manus Cranny on Bloomberg Television. "We're improving the asset mix, reduced number of liquid assets, putting more money to work."
The lender sold its remaining stake in NN Group NV in April at a loss of 64 million euros as it completed its exit from the insurance business, a European condition for allowing the Dutch government to help the bank during the financial crisis. Underlying net profit, which excludes asset disposals, rose 27 percent to 1.4 billion euros.
Before it's here, it's on the Bloomberg Terminal.
LEARN MORE