India's Gold Imports Said to Slide in July After Climb in Prices
by and
Purchases from abroad tumbled 77% last month from a year ago

Jewelers aren't actively stocking up for the festival season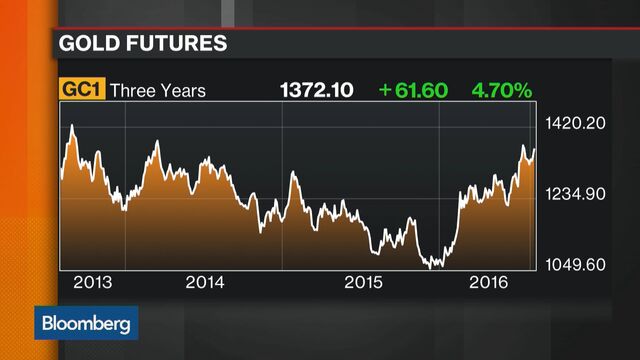 Gold imports by India, which vies with China as the world's biggest consumer, fell for a sixth month in July as higher prices exacerbated a seasonal lull, according to people familiar with provisional Finance Ministry data.
Purchases slumped 77 percent to 22 metric tons in July from a year earlier, valued at 61 billion rupees ($911 million), the people said, asking not to be identified as the data isn't public. The country imported 32 tons in June this year. Finance Ministry spokesman D. S. Malik didn't immediately respond to a phone call seeking comment.
Gold has surged about 29 percent in 2016, partly as investors sought a perceived safe haven amid an uneven global economic expansion. Higher prices could damp demand in Asia's No. 3 economy even during the festival season that starts later in August and concludes in October.
"Customers are staying away as they feel these prices are too high and they are waiting for a correction," said Bachhraj Bamalwa, a director at the All India Gems & Jewellery Trade Federation in Kolkata. "Jewelers have also not been active in stocking up for the festival season ahead."
Price Volatility
India's imports plunged almost 52 percent to 218 tons in the first half of 2016, according to provisional Finance Ministry data. Inbound shipments will probably fall to a seven-year low of about 700 tons this year, according to the trade federation.
Jewelry purchases are expected to pick up in 2017 as prices stabilize at higher levels, according to ICRA Ltd., the Indian affiliate of Moody's Investors Service.
Bullion is bought during festivals and marriages as part of the bride's trousseau or gifted in the form of jewelry by relatives. The nation imports almost all the gold it consumes and demand was 864.3 tons in 2015, World Gold Council data show.
Before it's here, it's on the Bloomberg Terminal.
LEARN MORE