Junk Bonds Roll On Even After the Wheels Come Off Oil Markets
By and
Renewed weakness in crude price could weigh on junk valuations

Managers ponder what to sell when 'there's nothing we can buy'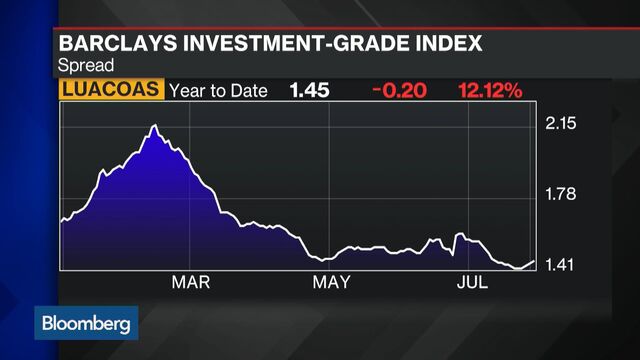 The well-oiled machine that linked junk-bond indexes to energy prices may be sputtering.
After moving in lockstep with oil markets for much of the last two years, high-yield bonds have posted modest gains in the past two months. That's despite a renewed bear market in crude prices that's casting doubt on the fate of oil drillers, producers and transporters, which make up the biggest portion of some high-yield indexes.
The conundrum is whether the turmoil in energy markets will eventually start dragging down junk-bond valuations as defaults and bankruptcies pile up among issuers in the oil patch. Amid warnings from investors such as Bill Gross at Janus Capital Management even about top-rated debt, investors are getting more selective about high-yield and particularly wary of speculative energy debt.
"We are not looking in energy for opportunities, but if oil stays near where it is, we are definitely looking in other pockets of high yield," said Zach Jonson, a money manager at Icon Advisers Inc., which manages about $2 billion in assets. "If we fall into the low $30s and below, all bets are off."

Both the Bloomberg USD High Yield Corporate Bond Index and the Bank of America Merrill Lynch U.S. High Yield Index returned more than 2 percent from June 8 through Aug. 3 -- including a contribution from energy debt -- while oil prices were sliding about 20 percent. But investors got a taste of the market's potential volatility on Aug. 1, when oil fell below $40 a barrel. Energy issuers in the BofA index lost 0.48 percent that day, wiping out their total return for the previous four weeks.
If oil continues to decline, it's likely to weigh on valuations across the high-yield market, said Barclays Plc strategists led by Bradley Rogoff. Multiples are already "a little bit rich," with exploration and production companies particularly vulnerable, Rogoff said in an interview. "At $35 oil, most of these companies medium-to-long term don't work, and we're not that far from that at this point," he said.
High-yield energy bonds made up about 16 percent of the broader BofA high-yield index's face value as of July 31, according to BofA Merrill Lynch data. Some bond investors have taken oil's renewed slump as a cue to get out of the sector, including Prudential Fixed Income's Mike Collins, whose fund has sold its small remaining positions in high-yield energy over the past few weeks.

Others are hesitating because they lack attractive places to reinvest, according to Martin Fridson, chief investment officer of Lehmann Livian Fridson Advisors.
"If you just talk to portfolio managers they'll say, 'We're afraid to sell anything because there's nothing we can buy to replace it with that's offering any value,' " Fridson said in an interview.
Pressure on speculative-grade energy companies may intensify if lenders continue to tighten their standards, leaving drillers strapped for cash.
U.S. bank regulators are keeping a close eye on loans to troubled energy companies, according to two people with direct knowledge of the matter. About $130 billion of those commitments are concentrated in about 15 banks, according to the people, who asked not to be identified because bank regulation is confidential. Regulators are scrutinizing about five or six banks where energy lending equals around half of their capital, the people said.
Spokesmen at the Federal Reserve, Federal Deposit Insurance Corp. and Office of the Comptroller of the Currency declined to comment.
"We have to make sure that we're doing the right thing for our shareholders and the right thing in terms of the regulatory expectations," said Robert Dye, chief economist at Dallas-based Comerica Inc., where energy clients are about 5 percent of the the loan portfolio, according to a spokesman. "Banks are going to take a more conservative view on energy lending here in the near term."
Close to half of "upstream" companies, which includes drillers and explorers, are rated B- or below by S&P Global Ratings and have unsustainable debt-to-earnings ratios, according to Tom Watters, managing director of S&P's oil and gas group.
Old Assumptions
If oil prices stay at current levels, issuers who haven't restructured will need to overhaul financing arranged under the assumption that oil prices would be $80 a barrel or more, said Margie Patel, a portfolio manager at Wells Capital Management, which oversees about $349 billion.
"You can put that off, but you can't escape it," Patel said.
Nevertheless, the sector appeals to some debt investors because the spate of bankruptcies and restructurings may have washed out some weaker credits. Gershon Distenfeld, a portfolio manager at Alliance Bernstein Holding LP, which oversees $35 billion, said his fund has "begun to nibble."
"For most of the high-yield market, lower oil prices is a good thing because it can cause consumer demand," Distenfeld said. While energy is the biggest component of the high-yield market, it's "still a minority of the market, and most of the market still does benefit from low oil prices."