Photographer: Luke MacGregor/Bloomberg
Here's What U.S. Executives Are Saying About Brexit on Their Earnings Calls
Execs across the pond are scrambling to decode Brexit.
by
If the U.K.'s vote to leave the European Union sent instant shock waves through financial markets, the effect on real-sector business has been glacial by comparison. Still, earnings calls show the new reality is already having an impact on businesses across the Atlantic.
According to Bespoke Investment Group, 49 percent of U.S. companies that reported during the first half of the earnings season mentioned Brexit. Financials led the way with 71 percent of them discussing the vote, while energy and consumer staples made the fewest references to it. 

"This is hardly surprising considering Brexit's impact on exchange rates and international interest rates, as well as London's status as a financial hub," the team points out, adding that low oil prices have given energy companies plenty of other things to talk about.
Below is a chart that breaks down mentions of Brexit for sectors in the S&P 500.

Taking a deeper dive into what exactly executives are saying, here are some excerpts from the recent company calls. 
BlackRock Inc. CFO Gary Shedlin said that the uncertainty wreaked by Brexit is weighing on the entire asset management industry. 
"The current macro environment, including negative yields in many jurisdictions, Brexit and U.S. election uncertainty is causing clients to defer investment decision, resulting in significant increases in global cash balances, lower active flows and a shift from equity to fixed income assets. This environment is also resulting in lower revenue capture across the asset management industry... More recent market volatility associated with Brexit had a minimal impact on second quarter base fees. While the operational implications of Brexit will evolve over the coming quarters, we are well-positioned versus the industry as a function of our globally diversified manufacturing, distribution, and operating platform."
Poor visibility remained a theme at JPMorgan Chase and Co., whose CFO Marianne Lake stressed multiple times how it's hard to tell exactly what the impacts of the referendum will be, given the road map for Brexit remains unclear. Still, she also said trading volumes received a short-term boost, helping markets revenue during the quarter to increase by 23 percent to $5.6 billion.
"The Brexit vote triggered a spike in volatility and volumes across asset classes... I know that everybody is keenly interested to hear what we have to say. But the truth of the matter is it's very, very early days. The new government is just forming, as we speak. Negotiations need to be given some time to unfold and take shape. And so it's really too early to hypothesize. We would hope that we can continue to operate the way we are right now, but we will just continue to evaluate the landscape as I'm sure you will over the coming weeks, months and quarters and plan accordingly."
Goldman Sachs Group Inc. CFO Harvey Schwartz echoed JPMorgan's Lake in describing a boost to trading volumes around the vote:
"Going into Brexit, client activity tapered off. But at the point of Brexit and shortly thereafter, in a number of our businesses we either hit near-peak volumes, or peak volumes, or new peaks. And so that was quite good to see."
He appeared to side-step speculation that the bank plans to move jobs out of the U.K.
"We've been in Europe and in the U.K. for a very long period of time. And we're completely committed to our clients in the region. And regardless of how these negotiations go, we're going to make sure that we're there for them."
Wells Fargo and Co. CEO John Stumpf said his bank's U.S. focus inures it from the worst of the fallout, although one of the effects he highlighted is that that lower-for-longer interest rates are likely to stay even lower for even longer after the vote. 
"Brexit has added to global economic uncertainty and could result in rates remaining lower for even longer than expected, putting pressure on reinvestment opportunities. However, compared to our large bank peers, it should have a much lower direct impact on our long-term business drivers, because as you know, we're largely a U.S.-centric company and many indicators point to continued relative strength in the U.S. economy."
Citigroup Inc. Mike Corbat reassured analysts about the volume of investment banking deals he expects this quarter. 
"You know, I think the pipeline remains pretty strong. And actually, on the heels of Brexit, we saw actually quite good deal flow. You saw debt capital markets, you saw equity capital markets, you saw M&A getting executed, getting announced. So I would say that the pipeline for the third quarter remains pretty strong."
While Morgan Stanley CFO Jonathan Pruzan said the firm's trading departments largely benefited from the heightened volatility:
"After a difficult start to 2016, the markets improved in the second quarter. However, the world continues to experience significant geopolitical uncertainty and with that, the potential for economic under-performance. The Brexit vote and upcoming U.S. elections have only added to a cloudy outlook... We said that January and February were very challenging markets. March was more stable, a better backdrop for the businesses that we are in, and then that April and May looked a lot like March. What we saw in June was sort of a continuation of that trend, as we approached the Brexit referendum, we saw people start to realize the potential impact of this outcome and we saw more risk management and hedging activity. And then for the couple of days right before and right after we saw heightened volatility and significant volumes."
The point was also made by Bank of America Corp. CEO Brian Moynihan. Sales and trading revenue for the quarter soared. It was:
"The highest second quarter we have experienced in five years, and it led to one of the most profitable quarters for Global Markets we have seen in the past five years."
Outside of financials, Harley-Davidson Inc. CFO John Olin said that Brexit will weigh on already-somber consumer confidence in the Europe.
"At this point, there is not enough information, or not enough time has gone by, to understand the impact of Brexit. I think what we are very certain of is that Brexit does not provide any benefit to retail sales or consumer confidence in Europe.... I'd put it into a broader bucket, instead of just Brexit, as overall consumer confidence driven by geopolitical concerns or macroeconomic concerns."
Delta Air Lines Inc. President Glen Hauenstein touched on the vote's dramatic foreign-exchange impacts.
"In the U.K., Delta's British pound-denominated revenue is roughly $350 million on an annual basis. And when the pound devalued 12 percent versus pre-Brexit levels, our revenues were reduced by $40 million from currency alone. Since the leave decision, we haven't seen a material impact on volumes. But as Ed mentioned, along with our partner, Virgin Atlantic, we are taking additional capacity out of the U.K. for winter to address the headwinds in the region."
CEO Edward Bastian expanded on that last point:
"The currency certainly has impacted the booking point of sale, and we have seen some strength in the U.S. point-of-sale to the U.K. as the pound has deteriorated. Likewise, we've seen some reduction in our U.K. point-of-sale coming to the U.S. And that's why we're making certain of the capacity adjustments combined with overall high levels of capacity in the North Atlantic, which is putting pressure on yields even before Brexit."
American Airlines Group Inc. President Scott Kirby said that there are three main variables at play, which broadly cancel each other out in aggregate: 
"One is the currency effect, which is a pretty clear negative."

"There's a lot more consultants, lawyers, bankers that are likely to be flying back and forth figuring out what the heck this means and what are we going to do."

"The third and most concerning thing will be — that has the potential to be negative in the near- to medium- term — is if it creates business confidence problems. We have seen historically that when there's business confidence, one of the first things businesses do is cut the travel, entertainment budget. That's not something that would uniquely affect the U.K. or the EU, it would be a broader impact. I was gratified to see that while the market fell for two days after the Brexit vote, it has bounced back and that's usually a pretty good indicator of confidence, or highly correlated with confidence. And so I think it's unlikely that we're going to see a big change of confidence. So, all of which means, I think for the next few years at least, there's not going to be much impact from Brexit when you sort through those three items."
Like American Airlines, Yahoo! Inc. is another company that benefited from the scramble to decode the vote's implications. CEO Marissa Mayer said Yahoo's Finance vertical saw increased traffic after the vote. 
"As the U.K. contemplated the Brexit vote, users turned to Yahoo! to follow 37 hours of continuous live updates that resulted in the highest number of users on Yahoo! Finance in four years."
Prologis Inc., a real estate firm with exposure to Europe, said Brexit's not going to change Brits' purchasing habits too much. Here's CEO Hamid Moghadam on the call:
"We understand though that some of you are concerned about our exposure to Europe generally and to the U.K. specifically. So far, however, the impact of Brexit on our operations has been minimal. Our U.K. customers serve mostly domestic consumers and we believe the decision to leave the EU will not materially change the buying habits of 65 million people. We're also confident in our overall European business. E-commerce and supply chain reconfiguration continue as big drivers of demand for our product. The Class A market is where the action is and where our portfolio is focused. Any modest decline in GDP growth would, in all likelihood, be offset by the need to carry slightly higher inventories."
American Express Co. CFO Jeffrey Campbell described Brexit as a temporary shock: 
"Our U.K. business constitutes 3 percent to 4 percent of worldwide billings and it has been growing in excess of 10 percent in recent quarters. We did see a noticeable slowdown in this growth in the first several days immediately after the Brexit vote. But that growth has since rebounded to its prior strong levels."
eBay Inc. CFO Scott Schenkel said exchange-rate effects broadly cancel each other out:
"With a weaker pound, we are seeing a boost in U.K. exports, which is driving a strong start to the quarter for our international business. This is offset by weaker U.K. import demand, particularly in the U.S. corridor. We have yet to see the impact of an economic slowdown on the U.K. domestic marketplace."
Mattel Inc. CFO Kevin Farr said that impacts on the quarter were small, and should remain contained over the full year. 
"Based upon current trends, we believe the negative impact from foreign exchange will be roughly $0.02 to $0.05 of EPS for the year related to Brexit."
Starbucks Corp. COO Kevin Johnson spoke of lackluster European consumer sentiment, which suggests that it's roiling everything from Olin's motorbikes to lattes: 
"System comps across our EMEA business grew 2 percent in the quarter. A slow-growth European economy, Brexit, a weakened British pound, and ongoing security concerns throughout the region have contributed to consumer uncertainty throughout Europe."
Whirlpool Corp. COO Marc Bitzer addressed the impact of foreign exchange.
"I think sequentially, we don't see big surprise, but still a year-over-year impact. And, as you also know, the British pound for the quarter average has deteriorated but obviously particularly post-Brexit, the decline has been significant and has a significant impact on our margins."
Watch Next: Here's How to Avoid Another Brexit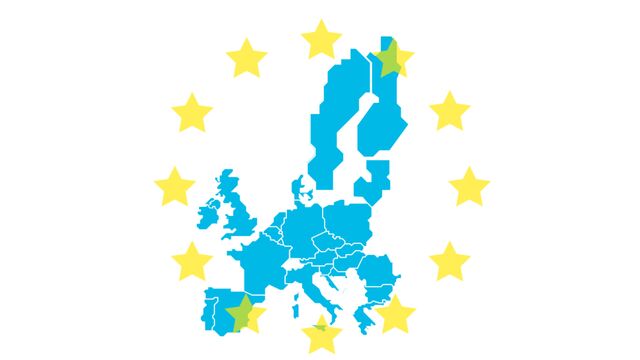 Before it's here, it's on the Bloomberg Terminal.
LEARN MORE