Tax Breaks and Spending Bubble Up in a Post-Brexit Britain
by and
U.K. finance minister has vowed to 'reset' fiscal policy

BOE running out of firepower as it gets ready to add stimulus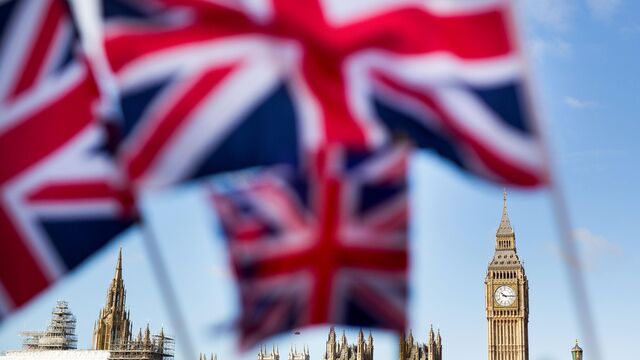 Chancellor of the Exchequer Philip Hammond is under pressure to deliver on his commitment to "reset" fiscal policy if the U.K. is to avoid a deep recession.
Six years of austerity are being reviewed by Prime Minister Theresa May's government amid signs the decision to quit the European Union is propelling the economy toward its first contraction since 2009. Warnings are also mounting that the Bank of England cannot revive growth alone as policy makers prepare to deliver new monetary aid on Thursday.

"The outlook for the economy beyond the next quarter or two depends on what the government does," said Robert Wood, a London-based economist at Bank of America Merrill Lynch who once worked at the central bank. "The right response is for the government to add fiscal stimulus, but obviously we don't know what they're planning."
May's three-week-old administration has signaled it is ready to loosen the purse strings, saying it is no longer seeking to deliver a budget surplus by the 2020 and pledging to take whatever action is necessary to aid the economy. But Hammond says nothing will be revealed until the Autumn Statement toward the end of the year, a rejection of his predecessor George Osborne's claim that an emergency Budget would be required to repair the public finances if Britons voted for Brexit.
Fiscal Choices
Options include further cutting tax on corporate profits, reducing value-added tax on sales, subjecting less income to tax, allowing companies to make more spending tax-deductible and boosting investment in infrastructure.

If Hammond does act, he won't be alone. Japanese Prime Minister Shinzo Abe is following Canadian Prime Minister Justin Trudeau in rolling out fresh fiscal support and in the U.S., presidential contenders Hillary Clinton and Donald Trump have endorsed more outlays on infrastructure.
Economists say the new chancellor has room to deliver a fiscal boost without alarming investors because the cost of borrowing has fallen since the June 23 Brexit vote, with the 10-year gilt yield reaching a record-low 0.681 percent last month. Capital Economics Ltd. says stimulus of around 5 billion pounds ($6.6 billion) a year is likely.
The budget deficit will total 129 billion pounds over the two fiscal years through March 2018, more than a third more than the Office for Budget Responsibility forecast in March, according to the average of independent forecasts received by the Treasury in July. Economists polled by Bloomberg see output shrinking this quarter and next, with growth slowing to just 0.6 percent next year.
Policy Shift
A shift to easing would mark a departure from the David Cameron era, when Osborne bet on austerity to aid the economy. He deployed the biggest fiscal retrenchment since World War II, reining in a budget deficit from 10 percent of gross domestic product, yet drawing blame in some quarters for fueling the discontent that led to the referendum result.
As far as the BOE is concerned, help may be welcome. Governor Mark Carney and his colleagues are set to provide more monetary stimulus this week. But with their benchmark interest rate already near zero and doubts over the potency of buying more bonds, there may be limits to what more they can achieve, according to economists and former BOE officials.
"The bank is in a much more constrained position in a world where monetary policy is likely to be less effective," Charles Bean, who was deputy governor for monetary policy until 2014, said at a Fathom Consulting conference in London on Tuesday.
'Serious Option'
With groups including the Organization for Economic Cooperation and Development calculating that raising public investment pays for itself by boosting growth, Hammond is expected to increase spending on infrastructure, for which the U.K. is ranked 27th globally by the World Economic Forum.
"We can now borrow money almost at zero," Antonio Horta-Osorio, chief executive officer at Lloyds Banking Group Plc, said last week. "If we target this money to appropriate projects that can raise the productivity for the country, this should be a serious option to be considered."
Arguably, a more immediate boost could be achieved by cutting VAT. Gordon Brown's Labour government did just that in a bid to spur consumer spending following the collapse of the Lehman Brothers in 2008, reducing it to 15 percent from 17.5 percent. The temporary reduction, estimated at the time to cost more than 12 billion pounds a year, was criticized by Osborne, and he increased the rate to 20 percent on taking office in 2010.
Not Over
Whatever he decides, Hammond has said that the goal of returning the public finances to surplus has merely been postponed, not abandoned. The budget deficit was still 4 percent of GDP in the past fiscal year and net debt stands at a record 1.62 trillion pounds, equal to 84 percent of output.
Sign up to receive the Brexit Bulletin, a daily briefing on the biggest news related to Britain's departure from the EU.
"Austerity is definitely not over and it may have to be extended beyond the current parliament," Scott Bowman, an economist at Capital Economics, said in a report to clients.
Before it's here, it's on the Bloomberg Terminal.
LEARN MORE