markets
Exchanges Supercharge Rules to Fight Cheaters Based Outside U.S.
By
Bats CEO wants faster crackdowns on market manipulators

Spoofing persists despite efforts to eliminate the practice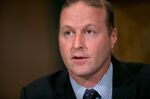 Foreign day traders were breaking rules and dodging regulators when Chris Concannon left Nasdaq Inc. in 2009. When he returned to the exchange industry five years later, he was dismayed to find it was still happening.
Now Concannon, back in the industry as chief executive officer of Bats Global Markets Inc., is leading the charge against brokers that enable manipulators. Bats got regulators' approval to move quickly against market participants whose clients engage in illegal practices like spoofing, barring them in weeks rather than the months or years it used to take. The company also introduced a neighborhood-watch style program to encourage more brokers to speak up when their peers abet manipulation.
Bats's competitors are starting to follow suit. Nasdaq adopted a rule like the one at Bats, also allowing it to rapidly block brokers with rogue customers. NYSE Group reminded its customers of what constitutes manipulation. The Financial Industry Regulatory Authority, which also oversees stock trading, plans to amend its rulebook to speed up enforcement against bad actors.
"What I was frustrated by, walking back into the exchange space, was there were things that were going on five years ago when I left that were still going on," Concannon, who became the chief executive officer of Bats last year, said in an interview at Bloomberg's headquarters in New York.
The exchange-level effort may make it easier to crack down on spoofing and layering. The pair of illegal strategies usually involve entering orders into the market to move a security's price with no intention to complete them, in hopes of tricking other traders into thinking there's demand to buy or sell that's not really there.
The Securities and Exchange Commission and the Commodity Futures Trading Commission have struggled to stop such strategies, especially when executed from abroad through U.S. brokers.
"The exchanges are supposed to be doing the front-line surveillance," said Jim Angel, a finance professor at Georgetown University in Washington. "It's important as people are getting more concerned about spoofing."
For an explanation of spoofing, click here.
Spoofing was catapulted into headlines last year when the U.S. accused London-based Navinder Singh Sarao of using the technique to manipulate futures markets. But it's not just an overseas issue. Michael Coscia, the first person convicted of spoofing under the 2010 Dodd-Frank Act, was based in New Jersey. Chicago-based Igor Oystacher has also been accused by the Commodity Futures Trading Commission of using the technique. Sarao, Coscia and Oystacher allegedly spoofed in futures markets, an asset class separate from stocks, the area Bats, NYSE and Nasdaq are targeting.
Regulators also have fined firms for allowing this kind of trading activity into U.S. markets from abroad. In 2014, Wedbush Securities Inc. paid the SEC $2.44 million to settle allegations it gave thousands of "essentially anonymous" traders access to American markets. Hold Brothers On-Line Investment Services LLC paid more than $5.9 million to the SEC and Finra for accusations it allowed manipulative orders from foreign affiliates to enter the U.S.
With the new rules in place, "we have a better weapon," Concannon said. Manipulative behavior "not only harms our exchanges and their participants, but also tarnishes the public's faith in our financial system," NYSE told members in its memo.
These rules may also curry favor with big exchange clients, including high-speed traders, whose automated strategies are at particular risk of being duped by phony trading, according to Craig Pirrong, a finance professor at the University of Houston.
"The ones paying closest attention to market signals, likely HFT, are the ones detecting false signals most quickly," Pirrong said.
— With assistance by Trista Kelley
(
An earlier version of this story was corrected to fix the spelling of CFTC in the 6th paragraph.
)
Before it's here, it's on the Bloomberg Terminal.
LEARN MORE