Duterte to Push Ahead With Name-Shame in Drug War as Deaths Rise
by and
Six people killed by police at home of mayor linked to drugs

Police say 402 drug suspects killed, near 600,000 surrendered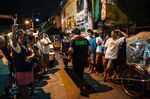 Philippine President Rodrigo Duterte plans to publicly shame dozens of government officials allegedly involved in the illegal narcotics trade, as the casualties mount from his war on drugs with another police firefight.
Six bodyguards for Rolando Espinosa, mayor of Albuera in the central Philippines, were shot dead in a raid on Espinosa's house on Wednesday, a day after he surrendered and confessed that his son is a drug lord. At a televised briefing on Tuesday, police chief Ronald dela Rosa said Espinosa was free to return home but ordered his son -- who is at large -- to surrender or die.
The government will allow other officials linked to trafficking to seek to clear their names. "My God, you will be shocked" at those on the list, Salvador Panelo, Duterte's legal adviser, told reporters in Manila on Tuesday. He said Duterte would name all 27 local politicians shortly.
Duterte, the former mayor of Davao City, won the presidency in a landslide partly on his tough talk against crime, corruption and vice. Even on the campaign trail he warned the blitz would be bloody and without mercy.

There's no specific polling since he took office on the popularity of his war on drugs, but he has won plaudits among his supporters on social media. His trust rating was 91 percent in a poll conducted last month by Pulse Asia Research Inc., the highest mark for any president since it started trust surveys in 1999.
"Duterte's style is unusual in the sense that he thinks out of the box and he uses tactics that he thinks will work," said Ramon Casiple, executive director of the Institute for Political and Electoral Reform in Manila. "It's too early to say whether it's getting out of hand. Police abuse would have to be cumulative as a phenomenon and the president himself has said that he would go after abusive policemen."
The national police said 402 people were killed in the first month after the crackdown started July 1, the day after Duterte took office. More than 5,400 were arrested and 565,805 surrendered. That count doesn't include dozens killed by unidentified assailants.
Duterte named five police generals accused of involvement in illegal drugs last month, three of them on active duty. All five deny wrongdoing.
Rights Concerns
The campaign has drawn condemnation from some quarters, with Human Rights Watch calling the surge in killings unacceptable. An S&P Global Ratings analyst said the deaths may spur uncertainty. Senator Leila de Lima, a former chairman of the Commission on Human Rights, said Tuesday in a televised speech she filed a resolution seeking a Senate probe of the drug-related killings.
"Mr. President, impunity once unleashed has no boundaries," De Lima said. "We cannot wage the war against drugs with blood. We will only be trading drug addiction with another more malevolent kind of addiction. This is the compulsion for more killing, killings that have now included the innocent."
De Lima, who investigated Duterte over extra-judicial killings when he was mayor, decried what she said was "propaganda" on social media that portrayed her as a protector of criminals. She said videos and a photo that circulated purportedly showing her socializing with alleged drug lords mistakenly identified a guest at her birthday party as a convicted felon.
"We are somewhat unsettled by the extra judicial killings," said Kyran Curry, an S&P Global Ratings sovereign analyst based in Singapore. "While they have no immediate ratings impact, we regard this aspect of the law and order focus of the new government as troubling because it has the potential to cast a shadow over enforcement of criminal laws without due judicial process and raises the possibility of breaches of civil rights and social unrest."
Before it's here, it's on the Bloomberg Terminal.
LEARN MORE