Continental Sees Second-Half U.K. Car Demand Drop on Brexit
by
Company expects 2% rise in Europe car production in 2016

LMC Automotive forecasts 15% U.K. auto sales decline by 2018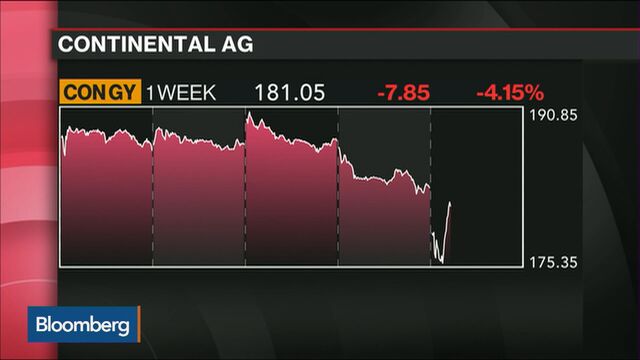 Continental AG said U.K. car sales will probably drop in the second half due to the vote to leave the European Union, as consumers shy away from making purchases in an uncertain economic environment.
The continent's second-biggest parts-maker predicted a second-half slowdown in European car production, saying growth will decline to 2 percent in the full year from about a 4 percent increase in the first half. The demand deceleration will affect the U.K. in particular, Continental said Wednesday.
"Car demand was very strong in the U.K. market during the first half, which we now see weakening," Chief Financial Officer Wolfgang Schaefer said in a phone interview. "We still expect a slight increase in demand on an annualized basis."
The June vote has prompted predictions of a downturn in the U.K. economy, with the National Institute for Economic and Social Research on Wednesday forecasting a "marked" slowdown as uncertainty and a tightening of financial and credit conditions damp business investment and consumer spending. In June, new car registrations in the nation, Europe's second-biggest market, slid 0.8 percent, while the rate of growth for European new car sales showed the weakest gain since March.
The shares dropped as much as 4.2 percent, the most since June 27, and were down 1.3 percent to 180.60 euros at 10:38 a.m. in Frankfurt.
2018 Decline
BMW AG and Daimler AG, maker of Mercedes-Benz cars, have said there's been no noticeable negative impact so far on vehicle sales in the U.K. Preliminary deliveries for July were also as expected, BMW Chief Executive Officer Harald Krueger said Tuesday. Looking ahead, sales may decline 15 percent through 2018 to 2.55 million vehicles, forecaster LMC Automotive said.
Continental, also Europe's second-biggest producer of tires, raised prices in the U.K. as of Aug. 1 due to the decline in the pound, Schaefer said. Since the June 23 vote, the pound has dropped 9 percent, making it the worst performer in a basket of major currencies.
Deutsche Post AG, owner of the DHL express and logistics brand, also said Wednesday it's considering price adjustments in the wake of the vote. The company has "all instruments on the table" to react to the potential consequences, CFO Larry Rosen said on a conference call.
Before it's here, it's on the Bloomberg Terminal.
LEARN MORE