BOE 'Sledgehammer' Could Deliver Another Blow to the Pound
by and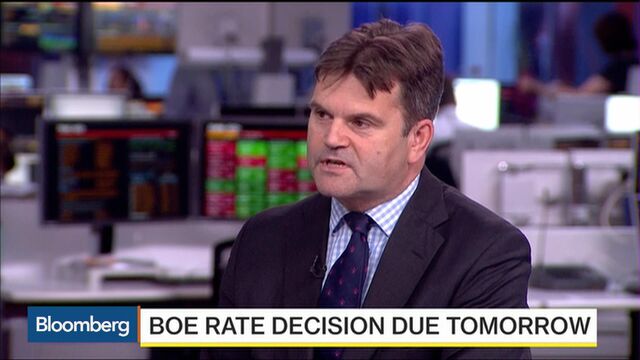 The pound's fate may hinge on the shape of tomorrow's expected stimulus announcement. 
With the U.K. economy undergoing a crisis of confidence, the Bank of England is gearing up to loosen policy this week. Market participants are waiting to see if the BOE adopts the 'sledgehammer' strategy advocated by its chief economist Andrew Haldane, or takes a more muted approach.

Economists surveyed by Bloomberg expect the BOE to cut interest rates by 25 basis points to 0.25 percent at their meeting tomorrow. Beyond the apparent consensus, how far it will go and which additional measures it will take are a source of intense debate among analysts.
The market also expects the bank to expand quantitative easing by an average of 30 billion pounds ($41 billion), according to Citigroup Inc. analyst Josh O'Byrne. Such an outcome would have a contained impact on the currency, but it's not the one predicted by Citi — the bank foresees a larger volume of asset purchases, at 75 billion pounds. Larger-than-expected rate cuts — a sledgehammer, if you will — would contribute more to sterling weakness than above-consensus QE, said O'Byrne:

ING Groep NV analysts led by James Smith have a very similar forecast to Citigroup, and expect that if they're right sterling will suffer a 3 percent decline.

Meanwhile, economists at Goldman Sachs Group Inc. led by Jan Hatzius expect a 25 basis point rate cut, a 100 billion-pound six-month asset purchase program split evenly between government and corporate bonds, and an expansion of the funding-for-lending scheme. In this scenario the BOE might boost the U.K. real GDP by around 0.3 percent after a year, and increase core inflation by 0.1 percentage points over the same period, they said.
Citing a sizable sterling short position, Goldman analysts say they foresee a weaker exchange rate if the BOE implements this benchmark scenario. The pound would drop to $1.20 in three months before strengthening to $1.25 in 12 months, the economists said. Currently at $1.336, the pound has strengthened slightly in the past month, but remains near its lowest in more than 30 years, having plummeted after Britain voted to leave the European Union on June 23. 
Were the BOE to focus instead on credit-easing measures, through a generous expansion of the funding-for-lending scheme, Goldman says that's unlikely to weaken the sterling significantly.
"Our analysis also highlights the MPC's trade-off in designing a policy package: rate-focused policies have larger effects on growth than credit-focused options in our model, but come at the cost of higher inflation (via weaker Sterling) and lack of support for the corporate sector (including financial institutions)."
Before it's here, it's on the Bloomberg Terminal.
LEARN MORE