ADP Says Companies in U.S. Added 179,000 Employees in July
by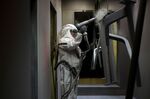 Companies in July added workers to U.S. payrolls at a steady pace from the prior month, a private report showed Wednesday, showing the labor market was holding up in spite of broader growth numbers that indicate a slowing in the economy.
Key Points
Private payrolls climbed by 179,000 last month (forecast was 170,000) following a revised 176,000 gain in June, according to the ADP Research Institute in Roseland, New Jersey
Goods-producing industries, which include manufacturers and builders, cut headcounts by 6,000
Payrolls at service providers climbed by 185,000



Big Picture
Hiring managers are finding enough stability in the demand outlook to keep adding to staff even amid rocky global economic conditions. The government's tally of payrolls rebounded in June to an eight-month high, and Friday's report from the Labor Department probably will show employers added to staff at a similar pace to the average so far this year. While U.S. consumers have been buoyed by steady job additions, burgeoning income gains and cheap borrowing costs, overall growth has shown pockets of weakness in the economy that threaten to derail job-market progress.
Economist Takeaways
"Job growth remains strong, but is moderating as the economy approaches full employment," Mark Zandi, chief economist at Moody's Analytics Inc. in West Chester, Pennsylvania, said in a statement. Moody's produces the figures with ADP. "Businesses are having a more difficult time filling open job positions, which are near record highs. The nation's biggest economic problem will soon be the lack of available workers."
The Details
Estimates in the Bloomberg survey ranged from gains of 140,000 to 198,000. June's figure was previously reported as an advance of 172,000. That compared with a government reading of 265,000 for private payrolls.
Hiring in construction dropped by 6,000
Factories added 4,000 workers
Companies employing 500 or more workers increased hiring by 50,000 jobs; Medium-sized businesses, or those with 50 to 499 employees, increased by 68,000; Small companies payrolls rose by 61,000
Before it's here, it's on the Bloomberg Terminal.
LEARN MORE