markets
Ackman's Pershing Square Sells Position in Canadian Pacific
By
Investor says proceeds will be used to fund new purchases

Move comes after transformation of Canadian railway firm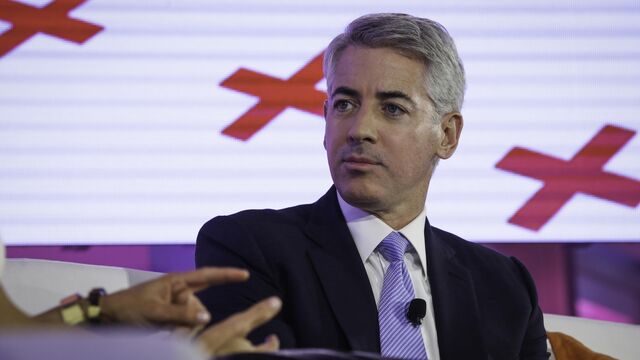 Bill Ackman's Pershing Square Capital Management LP is unloading its entire stake in Canadian Pacific Railway Ltd., almost five years after sparking a turnaround at the company and becoming its biggest shareholder.
"Canadian Pacific has completed an incredible transformation since our initial investment in 2011," Ackman said in a statement Wednesday.
JPMorgan Chase & Co., Credit Suisse Group AG and Bank of America Corp. are leading the secondary sale of 9.84 million shares, the companies said. The 6.7 percent stake is valued at about C$1.89 billion ($1.45 billion) based on Wednesday's close. The offering is priced at $142.50 a share, according to a person familiar with the process who asked not to be identified.
Canadian Pacific fell 3.1 percent to $142.65 at 11:18 a.m. in New York on Thursday. In Toronto, the stock declined 3.3 percent to C$186.22.
Ackman, a New York-based investor, said he intends to continue to serve on Canadian Pacific's board until the next annual meeting. Pershing Square plans to use the proceeds of the sale to fund one or more new investments, he added.
Pershing Square began accumulating a position in Canadian Pacific in 2011 before leading a high-profile proxy battle at Canada's second-largest railway in 2012.
Ackman's efforts were focused on replacing the railway's then chief executive officer Fred Green with industry veteran Hunter Harrison.
Turn Around
After being appointed CEO, Harrison launched an aggressive transformation at the railway that saw the operating ratio -- a measure of the company's operating costs as a percentage of revenue -- fall from the low 80s to below 60 percent. The lower the number the better, and at the end the second quarter it sat at 62 percent, the company said in a July statement.
Canadian Pacific shares more than tripled since Ackman made his position known in 2011. It closed Wednesday at C$192.49 a share in Toronto.
Steve Hansen, a Vancouver-based analyst with Raymond James, said the transformation at Canadian Pacific after Ackman's push has been dramatic.
"There will be case studies written about what you can do to an organization that really hasn't been pushed towards efficiency," he said in an interview.
Valeant Challenges
He said he suspected Ackman was selling because of troubles with some of his other investments, including Valeant Pharmaceuticals International Inc., the Canadian drug maker.
"At the same time, there's this debate about what inning CP is in its evolution. The big heavy lifting has been done, and now we're into more incremental gains as opposed to wholesale step changes. So, he's probably looking to move on," Hansen said.
Earlier this year, with the help of Ackman, Calgary-based Canada Pacific launched a failed attempt to take over Norfolk Southern Corp. after its efforts were rebuffed by Norfolk's management and board. Harrison has said he plans to step down from the railway next year.
— With assistance by Frederic Tomesco, and Drew Singer
(
Updates with pricing detail in third paragraph.
)
Before it's here, it's on the Bloomberg Terminal.
LEARN MORE