Abe Keeps Aces in Japan Cabinet While Playing a Couple of Jokers
By and
Premier rewards loyal lawmakers with promotions in reshuffle

Former rival leaves cabinet, may mull run at leadership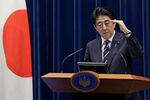 Japanese Prime Minister Shinzo Abe kept his big hitters in place and promoted loyal lawmakers in a cabinet reshuffle Wednesday. He also sprung a couple of surprises.
The 19-person line-up -- dubbed by Abe as a "cabinet for future challenges" -- now contains three women, equaling the number of men with the surname Yamamoto. A party rival also quit his ministerial post in what's seen as a move to gather support to lead a post-Abe administration.
Click here to see the cabinet line-up
Here are some of the key names:
Big Guns, Loyalists
Chief Cabinet Secretary Yoshihide Suga -- the central figure in the administration -- along with Finance Minister Taro Aso and Foreign Minister Fumio Kishida retained positions held since Abe took power in December 2012.

Lawmakers loyal to the prime minister, such as Interior Minister Sanae Takaichi and Health Minister Yasuhisa Shiozaki also kept their jobs. Suga's deputy, Hiroshige Seko, was promoted to trade minister and Tomomi Inada, policy chief for Abe's Liberal Democratic Party, was put in charge of defense.
'Joan of Arc'
Inada's appointment grabbed headlines in the local media. Known for her hawkish foreign policy views, Abe had once compared the 57-year-old to "Joan of Arc," a 15th century peasant girl who helped the French army defeat the English.

Inada becomes the second woman to take the post, at a time of growing concern about North Korea's nuclear program and simmering tensions with China over a territorial dispute in the East China Sea. She's known for embracing causes that could sour ties with Japan's neighbors. A frequent visitor to Tokyo's Yasukuni Shrine, a place seen by China and South Korea as a symbol of Japan's past militarism, Inada was once refused entry to South Korea when she sought to visit islands close to a group of disputed islets.
"She is known for her provocative opinions," said Sven Saaler, associate professor at Sophia University in Tokyo. "But domestically, the appointment of a hardliner on territorial issues appeases Abe's conservative support base."
Friend of China
In contrast to Inada, the LDP's new Secretary General Toshihiro Nikai is known as a friend of China. He led a 3,000-strong delegation of lawmakers, officials and businessmen to the country last year, meeting President Xi Jinping and delivering a personal missive from Abe to the Chinese leader.

As No. 2 in the LDP after Abe, his push for a big stimulus is in line with the government's announcement Tuesday of a second package for the fiscal year.
Nikai "is probably the active legislator with the deepest and broadest network of ties with officials and politicians of China," Michael Cucek, an adjunct fellow at Temple University's Japan campus, wrote on his Shisaku blog on Japanese politics. "His appointment will likely both please and pain the Chinese Communist Party. If Nikai asks to come across the water and meet with a few old friends, how can the Chinese government refuse?"
The Maverick
Perhaps one of the biggest surprises was the appointment of Kozo Yamamoto, a reflationist backbencher who regularly held study sessions of "Abenomics," as minister for regional revitalization. The outspoken lawmaker, who advocates firm political oversight of the Bank of Japan, is joining Abe's inner circle amid signs that investors are losing confidence in the prime minister's economic policies.
Even though his new brief is to improve the lot of people in the nation's rapidly depopulating regions, he couldn't help but share his views on the BOJ soon after taking office. Yamamoto told reporters he will keep speaking out on monetary policy, again urging the central bank to make good on its promise to reach its 2 percent inflation target.
Future Rivals

Yamamoto replaces Shigeru Ishiba in the regional role. Ishiba, known as a military nerd, competed against Abe for the LDP leadership in 2012 and has been tipped as a possible future successor to Abe as prime minister, with elections due 2018. Kyodo News reported that Abe's aides asked him to stay in the cabinet but he refused, in a move to shore up support in the party.
"Since the start of Abe's second term, the LDP has been more unified behind their prime minister than ever before," said Steven Reed, professor of political science at Chuo University. "The reason is simple: they blame their loss in 2009 on being divided," he said, referring to the party's general election loss that year.
While Abe has kept potential rivals at bay "up until now," Reed said, "Ishiba provides a place where LDP members who are dissatisfied with the Abe administration can gather."
Before it's here, it's on the Bloomberg Terminal.
LEARN MORE