Currency Traders Had Divergence Bet Backward, Yen's Surge Shows
by and
Gains follow Prime Minister Abe announcement on fiscal plan

Futures markets were leaning wrong way on dollar, yen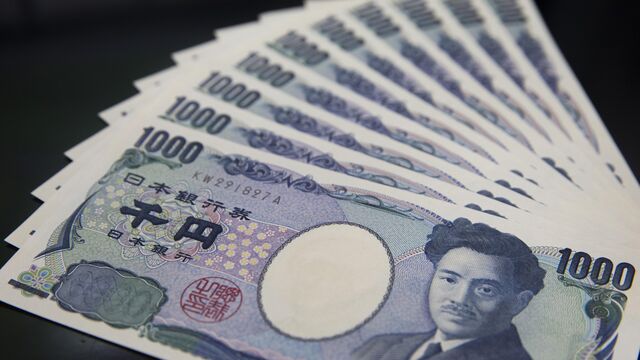 The foreign-exchange market is being roiled by a divergence trade, just not the one some investors were expecting.
The yen surged to a three-week high Tuesday after extra spending announced by Japan's government disappointed traders who were expecting more. Meanwhile, the dollar extended a slide triggered last week after the Federal Reserve signaled a gradual path of monetary tightening and a report on second-quarter economic growth proved much weaker than projected.

The currencies' paths are the opposite of what hedge funds have been banking on in the futures market in the past month. Traders had been pulling back on bullish yen wagers and adding to bets on dollar gains, anticipating a hawkish Fed and a major package of monetary and economic stimulus out of Japan. The events of the past week have upended that strategy.
"To the extent that we're not talking about further significant quantitative easing or even helicopter money, I think dollar-yen goes lower from here," Vasileios Gkionakis, global head of foreign-exchange strategy at UniCredit Bank AG, said in an interview with Bloomberg TV. He predicts the yen will appreciate to 95 versus the dollar by year-end, the strongest since 2013.
To see the interview, click here.
The yen appreciated 1.5 percent to 100.89 per dollar as of 5 p.m. New York time, and touched the strongest since July 11. The Bloomberg Dollar Spot Index sank 0.6 percent, and is coming off its steepest weekly decline since April.
Caught Leaning
The Japanese currency's advance undermines positioning from hedge funds and other large speculators who have almost cut in half net-bullish bets on the yen in recent weeks, according to data from the Commodity Futures Trading Commission. At the same time, they increased net bullish wagers on the dollar to the most since February.
The yen's gains come after Japan's government announced 4.6 trillion yen ($45 billion) in extra spending for the current fiscal year, amid efforts to bolster the economy without abandoning targets for improving fiscal health. The measures are part of what Prime Minister Shinzo Abe referred to in a speech last week as a 28 trillion-yen stimulus package.
Markets are acknowledging that "the fiscal package is not going to be the panacea to the ills of Japan in terms of emerging from deflation," said Jeremy Stretch, head of foreign-exchange strategy at Canadian Imperial Bank of Commerce in London. "We are seeing risk appetite moving sharply on the defensive."
The currency jumped last week as the Bank of Japan enlarged a program of buying exchange-traded funds, while keeping its negative interest rate unchanged.
"The headlines were 28 trillion yen, but the actual new spending will only be a quarter of that," said Mansoor Mohi-uddin, a Singapore-based strategist at Royal Bank of Scotland Group Plc. It's another sign "policy makers aren't beating expectations."
Before it's here, it's on the Bloomberg Terminal.
LEARN MORE