U.S. ELECTION WRAP: GOP Rifts Widen as Trump Gets Vet's Medal
Trump tensions with GOP leaders heat up as Obama calls for Republicans to renounce the billionaire nominee
By , , and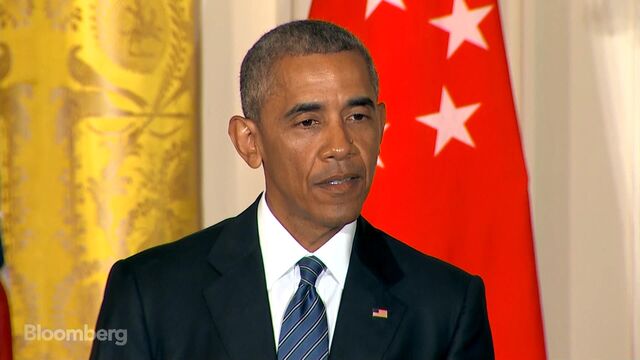 The furor sparked by Donald Trump's reaction to criticism of him by a slain U.S. soldier's Muslim parents showed no signs of cooling as President Obama called on Republicans to renounce support of their party's presidential nominee.
Calling Trump "unfit" to occupy the Oval office, Obama asked at a news conference in Washington, "Why are you still endorsing him?"

Earlier, retiring N.Y. Rep. Richard Hanna became the first GOP member of Congress to say he's voting for Hillary Clinton, citing his discomfort with Trump
"He is unfit to serve our party and cannot lead this country," Hanna said of Trump in an op-ed for Syracuse.com
It's not yet clear whether Hanna's stance is an outlier or a sign of things to come, Bloomberg's Ben Brody reported; see story here

The already uncomfortable relationship between Trump and House Speaker Paul Ryan -- the GOP's 2012 vice presidential nominee -- seemed to become more strained

Ryan yesterday issued a statement distancing himself from Trump's remarks about Khizr and Ghazala Khan, the parents of an Army captain killed 12 years ago in Iraq who have taken the billionaire businessman to task
Ryan also repeated his rejection of a temporary ban on Muslims entering the U.S., an early part of Trump's platform the nominee has since modified
This prompted an attack from Ryan's GOP opponent in Wisconsin's Aug. 9 primary, Tea Party-baked businessman Paul Nehlen
"The problem with Paul Ryan is his constant knee-jerk reactions to anything controversial Donald Trump might say without completely understanding the issue," Nehlen's campaign said in a statement. "He's looking for a way to contradict and criticize Mr. Trump because he knows the liberal press will eat it up"
Trump took to Twitter last night to thank Nehlen for his "kind words"

Trump, in an interview with Washington Post published this afternoon, said he's "not quite'' ready to back Ryan in his primary election; Trump also said he's not supporting Sen. John McCain in his primary in Arizona and had harsh words for N.H. Sen.  Kelly Ayotte
Meanwhile, even one of Trump's staunchest loyalists, N.J. Gov. Chris Christie, declined to come to his defense regarding the Khans

"You're not going to find me criticizing Mr. and Mrs. Khan, regardless of what they say," Christie said in Trenton
Maria Comella, former Christie spokeswoman, says she'll vote for Clinton, CNN reported

Trump, while stumping in Virginia today, displayed a Purple Heart he said was given to him by a supporter who, he said, told him, "I have such confidence in you"

"I said man, that's like, that's like big stuff," Trump said at the rally "I always wanted to get the Purple Heart, this was much easier. But I tell you it was such an honor"

Democratic strategist David Axelrod asked on Twitter whether one can "get a Purple Heart for heel spurs?" -- a reference to a New York Times story on Trump's draft deferments, including one for a foot issue
French President Francois Hollande today decried the "excesses" of Trump as sickening, AFP reported

"His excesses make you want to retch, even in the United States, especially when -- as was Donald Trump's case -- he speaks ill of a soldier, of the memory of a soldier," Hollande told journalists in Paris

See Bloomberg's round-up of Trump's comments today at his rally in Virginia here 
Click here to get the U.S. Election Wrap by e-mail every afternoon

DOES TRUMP WANT TO WIN?
Allan Lichtman, a political history professor at American University in Washington, questions whether Trump is sabotaging his chances of victory in November

"I'm not convinced he wants to be president," Lichtman said in an interview. "I think all he wants is the spotlight. I don't know if he wants the accountability"
Maybe Trump, knowingly or not, is "deliberately setting himself up to lose,"Lichtman said. "Even for an unconventional candidate, Trump isn't doing the things one would expect"
In studying U.S. politics from the days of the Founding Fathers and closely following every presidential election since 1960, Lichtman said he's "never come close to seeing anything like Donald Trump"
"He's an absolute mold breaker. Standard analysis just doesn't apply"

Lichtman, who has correctly predicted the outcome of every presidential election since 1984, hasn't yet made a prediction for this one

ON THE TRAIL
Clinton yesterday hit the stump in Omaha with its most famous resident, billionaire investor Warren Buffett, who ripped Trump over not yet releasing his tax returns, Bloomberg's Margaret Talev reported

Buffett said he would meet the GOP nominee "any place, any time" with a copy of his own tax returns and the two could answer questions from the public
The 85-year-old Buffett, known as the Oracle of Omaha, criticized Trump's record as a businessman and said the "final straw" in his disdain for him was the swipes at the Khans

At a campaign stop late yesterday in Harrisburg, Pennsylvania, Trump referred to Clinton as "the devil," Bloomberg's Sahil Kapur and Jennifer Jacobs reported

"I'm afraid the election's gonna be rigged, I have to be honest," Trump said

TRUMP ON THE STOCK MARKET
Trump said interest rates set by the Fed are inflating the stock market and recommended 401(k)-holders get out of the equities market, just as he did

"I did invest and I got out, and it was actually very good timing," he said in a phone interview with Fox Business today "But I've never been a big investor in the stock market"
Trump said the market would "go great" if he were elected
See full story by Bloomberg's Kasia Klimasinska here

FUNDRAISING
Hillary Clinton raised almost $90 million last month for her White House bid and the Democratic Party, her campaign said in a statement

See full story by Bloomberg's Ben Brody here

Leonardo DiCaprio will host a fundraiser for Clinton at the end of August in Los Angeles

Attendance is more than $33k per person

POLLS/PREDICTIONS
Clinton leads Trump 52% to 43% in a CNN/ORC poll released last night, a boost for her compared with the comparable survey conducted after the GOP convention

In the previous poll, Trump led Clinton 48% to 45%

ETC
Trump has fired at least two senior aides, Ed Brookover and Jimmy Stracner, Politico reported

Both aides came to the Trump campaign after working for Ben Carson in the GOP primary

Vanity Fair looks at "Why Clinton Can't Shake Trump"

TODAY'S PRIMARIES
Ones to watch tonight:
KS-01: GOP Rep. Tim Huelskamp, removed from Agriculture and Budget Cmtes in 2012 after clashes with Republican leaders, opposed by physician Roger Marshall, who's backed by U.S. Chamber of Commerce and agribusiness groups angered by incumbent's votes against 2014 farm measure and some GOP-backed budget proposals
MI-01: Three Republicans and two Democrats seek to succeed retiring three-term Republican Dan Benishek in competitive district that includes state's Upper Peninsula, Traverse City, Mackinac Island

State Sen. Tom Casperson, former state Sen. Jason Allen, retired Marine Corps Lt. Gen. Jack Bergman seeking GOP nomination; Democratic candidates are ex-state party chairman Lon Johnson and 2014 nominee/ex-county sheriff Jerry Cannon

MI-10: Winner of five-candidate Republican primary favored to succeed GOP Rep. Candice Miller in district that takes in state's "Thumb" region north of Detroit

Businessman Paul Mitchell has spent more than $2.9m of his own money on race; other candidates include state Sen. Phil Pavlov, state Rep. Tony Forlini

WA-07: Democrats Pramila Jayapal, Brady Piñero Walkinshaw, Joe McDermott are top contenders in strongly liberal Seattle district of retiring Rep. Jim McDermott

Two Democrats likely to advance to general under state's "Top 2" primary, under which voters choose among all candidates
Jayapal, a state senator, supported by Bernie Sandersin Democratic presidential primary; the McDermotts aren't related to one another

CONGRESSIONAL RACES
NH-SEN: National Republican Senatorial Cmte released TV ad saying Democratic Gov. Maggie Hassan "mismanaged the heroin crisis" and state is "paying the price"

Hassan's campaign released statement saying ad shows GOP Sen. Kelly Ayotte's "tacit approval for politicizing the heroin and opioid crisis"
Ayotte released statement yday saying "ad should be taken down," and that Hassan should agree to pledge to forswear ads from third-party groups

NV-SEN: NRSC TV ad blames Democrat Catherine Cortez Masto for rising crime in state during her tenure as Nev.'s attorney general

Cortez Masto's campaign in statement said "Washington Republicans are lying about Catherine's record"

PA-SEN: Ex-NYC mayor Mike Bloomberg endorsed Republican Sen. Pat Toomey over Democrat Katie McGinty, saying Toomey "crossed party lines to lead the fight to reduce gun violence in America by co-sponsoring legislation to close the background check loophole," The Hill reported

Toomey co-author of proposal that would require background checks for greater numbers of gun purchases; it has failed to get the 60 votes needed to advance in Senate
NOTE: Bloomberg is founder and majority owner of Bloomberg LP, parent company of Bloomberg News
FL-18: Republican Rebecca Negron in TV ad blamed "do-nothing Congress" for inability to combat Florida algal blooms, rising federal debt, illegal immigration

Negron among six Republicans seeking competitive southeastern district of Democratic Rep. Patrick Murphy, who's running for Senate

PA-09: Art Halvorson, Tea Party-aligned businessman who lost April GOP primary to House Transportation and Infrastructure Chairman Bill Shuster, 50.6%-49.4%, plans to run as Democrat in general election, The Hill reported
Before it's here, it's on the Bloomberg Terminal.
LEARN MORE