U.K.'s Julian King to Get EU Security Portfolio After Brexit
By
King's appointment follows Hill's departure from EU executive

Juncker creates security position for new U.K. commissioner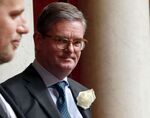 The U.K.'s pick as European Union commissioner, Julian King, was offered a job focused on counter-terrorism, a new brief created after Jonathan Hill resigned from the EU's executive arm last month following Britain's vote to leave the bloc.
The appointment to the role of "commissioner for the Security Union" fills a gap left by Hill's departure as the EU's policymaker overseeing financial services. King, Britain's ambassador to France, was named to succeed Hill on July 8. EU Commission President Jean-Claude Juncker gave the finance portfolio to Valdis Dombrovskis, saying the Latvian was "ideally placed to ensure continuity."
"This is a cross-cutting new portfolio that requires him to work with his colleagues in a team spirit," commission spokeswoman Mina Andreeva told reporters in Brussels on Tuesday. King will report to the commission's principal vice president, Frans Timmermans, and will "support and complement" the work of Home Affairs Commissioner Dimitris Avramopoulos.
New Job
Juncker moved carefully to fill the spot on the commission, which is made up of representatives of each of the EU's 28 member states, even though Britain voted to leave the bloc over the next few years. King's new job will be subordinated to more high-profile posts, entailing coordination efforts to fight terrorism by tracking returning fighters from the Middle East, boosting intelligence sharing among member states and stemming radicalization.
"As this is a new portfolio that complements existing portfolios, the responsibilities of the other commissioners remain untouched," the Brussels-based commission said in a statement on Tuesday. His goal will be to implement the European Agenda on Security adopted in April of last year and refocused as a "security union" in the wake of the terror attacks in Paris last November.
U.K. Prime Minister Theresa May's office welcomed Juncker's assignment, saying that Britain will remain an "active player" in EU affairs. "The U.K. will continue to fulfill our rights and obligations as a member state until we leave the EU," a spokesman for the premier said in a statement.
Liberal Critic
Guy Verhofstadt, leader of the European Parliament's Liberal group, queried King's nomination, citing the Brexit vote and the U.K.'s "long-standing opt-out from justice and home affairs measures, the crucial policy area if one is serious about building a European anti-terrorism capacity."
Hill, dispatched to Brussels less than two years ago by then-U.K. Prime Minister David Cameron, resigned just after the Brexit vote in June, signaling that a representative from a departing nation shouldn't hold such a weighty brief.
Under Hill's watch, the commission took on contentious issues such as curbs on bankers' bonuses. Many in Brussels were initially suspicious of Hill's ties to London's financial-services industry after his years in the public-relations and lobbying industry.
King's appointment must be confirmed by the EU member states. King will testify to a European Parliament committee in the early autumn, the commission said.