Trump Video Depositions in University Suit Won't Be Public
By
Public interest in candidate's demeanor ruled unsubstantial

Judge confirms denial of Trump bid to toss second class action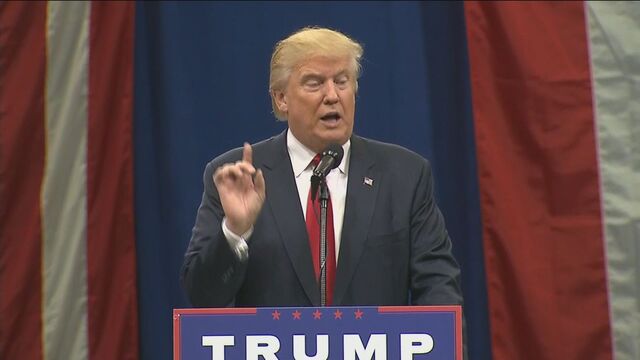 Donald Trump convinced a judge that videos of his sworn testimony in two lawsuits accusing his defunct namesake university of defrauding students shouldn't be made public, keeping potentially embarrassing snippets off television and out of presidential campaign attack ads.
A federal judge in San Diego rejected a request by the Washington Post and CNN, among other media organizations, for the videos to be filed in open court because of the widespread interest in the lawsuits against Trump University.
"While there is a degree of legitimate public interest in the demeanor of the defendant in the deposition videos, it is not a substantial interest," U.S. District Judge Gonzalo Curiel said in one of two rulings Tuesday. He said written transcripts and media reports "provide a detailed portrait of the underlying facts, claims, and defenses in both cases."
The allegations against the Republican nominee and his for-profit, unaccredited university have become fodder for his opponents trying to undermine the real estate billionaire's business credentials in his bid for the White House. Democratic Vice Presidential nominee Tim Kaine in his July 27 acceptance speech listed Trump University students among a list of purported victims who got "stiffed" by Trump's business dealings.
The judge on Tuesday also confirmed in a written order that he would allow racketeering claims on behalf of thousands of former students against Trump to go ahead to trial. Curiel said in court last month that he planned to reject Trump's request to throw out the case, one of two brought by former enrollees in Trump's real estate program.
Curiel rejected Trump's argument that a civil lawsuit under the Racketeer Influenced and Corrupt Organizations Act, or RICO, wasn't a proper vehicle to address consumer claims.
'Puffery' Question
"While defendant may believe that, as a policy matter, civil RICO ought not be extended to consumer class-action cases, it is not for this court to effectuate defendant's policy preferences in contravention of the settled approach of the higher courts," Curiel said.
The judge also concluded that whether Trump personally directed Trump University's marketing and whether his sales pitch for the seminars amounted only to harmless "puffery" would be questions for a jury to decide.
"Although today's decision merely holds that the case should proceed to a trial, we believe the case should have been dismissed now because it has no merit," Dan Petrocelli, a lawyer for Trump, said in in an e-mail. "We fully expect to prevail at trial."
Rachel Jensen, a lawyer representing the former students, didn't immediately respond to an e-mail seeking comment.
Trump previously injected politics into the case, claiming earlier rulings by the judge, born in Indiana to Mexican immigrants, were retribution for the candidate's pledge to build a wall between the U.S. and Mexico.
The Republican nominee is also fighting a case by New York's attorney general over claims he conned Trump University enrollees into believing they would gain special access to his real estate business secrets. Instead, despite paying as much as $35,000, they received instruction from minimally trained teachers and were subject to high-pressure sales tactics to keep buying more seminars and workshops, according to the lawsuits.
Transcripts Unsealed
The transcripts of Trump's questioning in December and January by a lawyer for the former students already have been unsealed. Trump wasn't able to identify any of the instructors who worked for Trump University and admitted they were selected by his associate who ran the program. Trump also said he wasn't involved in what the instructors told the students at the live events. The videotapes of Trump's answers show his responses in better detail than the transcript, according to the plaintiffs' lawyers.
Trump's lawyers argued that the video clips aren't relevant at the current stage of the litigation and that allowing them to be broadcast on TV would make it harder to select an impartial jury for trial.
Curiel set a Nov. 28 trial date for the other class-action case, accusing Trump and his school of violating consumer protection and elder abuse laws in California, Florida and New York.
The cases are Low v. Trump University LLC, 10-cv-00940, and Cohen v. Trump, 13-cv-02519, U.S. District Court, Southern District of California (San Diego).
— With assistance by Bill Callahan
Before it's here, it's on the Bloomberg Terminal.
LEARN MORE