Squeezed Aussie Banks Give More to Savers Even as RBA Cuts
by and
Big 4 banks lift rates for depositors, cut rates for borrowers

Moves follow RBA decision to cut cash rate to record-low 1.5%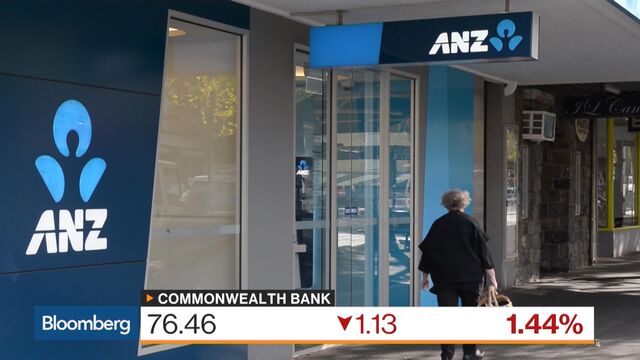 Australia's largest banks are betting that savers are no longer willing to stomach record-low returns on their cash.
Instead of passing on the central bank's interest-rate reduction on Tuesday, Commonwealth Bank of Australia, Australia & New Zealand Banking Group Ltd., Westpac Banking Corp. and National Australia Bank Ltd. said they'll offer higher payouts on some term deposits. Mortgage holders lost out, with the lenders trimming business and home loan costs by less than the central bank's 25 basis-point move.
Lenders are battling to hold on to deposits to meet regulatory requirements while also avoiding sacrificing earnings, with net interest margins -- a measure of lending profitability -- already at the lowest level in eight years, according to data compiled by Bloomberg. Their choice to favor savers over borrowers complicates the transmission of RBA policy moves throughout the economy, with bond traders already increasing bets on another rate cut by year-end.
"Optically, the higher deposit rates look good from a saver's perspective and banks need stable funding as well," said Omkar Joshi, an investment analyst at Watermarks Funds Management, which oversees about A$1 billion ($754 million). "Most of the margin sacrificed by the lenders will be largely compensated by decreasing rates on shorter-term term deposits and by not passing on the full RBA cut to mortgage customers."
RBA Easing
The Reserve Bank of Australia cut its cash rate to 1.5 percent on Tuesday, after policy makers lowered the benchmark to 1.75 percent in May. The four major banks announced reductions in variable mortgage rates of 10 to 14 basis points, while business costs are set to drop by 10 to 13 basis points.
Westpac has raised rates on one-, two- and three-year term deposits by 45 to 55 basis points, while CBA's increases for similar products range from 50 to 55 basis points. ANZ plans an increase of 60 basis points on its one-year advance-notice product and a 75 basis point hike on its two-year offering. The amount that NAB savers will receive on eight-month term deposits is set to climb by 85 basis points.
"This was a considered decision that balances the expectations of our home loan customers to keep lending rates as low as possible, while also supporting our savings customers who help fund our lending," said Fred Ohlsson, head of ANZ's Australian business. "Regulatory and funding costs have continued to rise and we need to remain attractive to depositors."

Australia's banks, under pressure from regulators to increase stable sources of funding, are competing to woo depositors. They have also been increasing the average tenor of debt they're selling in the wholesale borrowings market, and paying more for it. The average yield premium over the swap rate on financial company bonds in Australia has risen to 102 basis points from 84 a year ago, according to a Bloomberg AusBond index.
Macquarie Group Ltd. analyst Victor German said in a note to clients that this week's term deposit changes are likely to be unwound over time with limited impact on profitability. Nevertheless, he reckons funding margins are still likely to contract as banks compete for savers' cash in the lead up to new stable funding rules in the 2018 financial year.
The banks "have lifted deposit rates and that obviously comes at a cost as well," Australian Treasurer Scott Morrison said an interview Tuesday with Sky News. "It's not often when you get a cut in the cash rate that depositors actually get a bit of good news."
Before it's here, it's on the Bloomberg Terminal.
LEARN MORE