Singapore Warns U.S. Credibility on Line Over Trade Pact
by
Prime Minister Lee says TPP vital to U.S. engagement with Asia

Lee is on state visit to U.S., will meet Obama in DC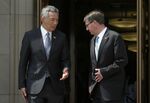 U.S. credibility is on the line over a Pacific trade pact that faces a tough approval process in Congress, Singapore's Prime Minister said Monday, warning about risks to the U.S.'s reputation in Asia if the deal falls through.
As well as being an "economic game-changer," the U.S.-led Trans-Pacific Partnership, which does not include China, could "add substance to America's engagement in the Asia Pacific" region, Lee Hsien Loong said in a speech in Washington D.C. The pact has been signed by the 12 member nations but is yet to be ratified by most of them.
"For America's friends and partners, ratifying the TPP is a litmus test of your credibility and seriousness of purpose," Lee said. "Every one of the TPP signatories has had to make sacrifices in order to accept the TPP agreement, and jointly bring about this win-win outcome."
As the U.S. presidential election draws closer, the TPP is at risk of being caught up in the wash of a growing anti-trade mood, which has seen both two candidates for the White House state publicly they oppose the pact. If ratified and implemented, it would cover around 40 percent of the global economy.
For a video of Trade Minister Ciobo speaking on BTV, click here.
The Obama administration has said it's committed to ratification and has highlighted a brief window after the election and before the new Congress takes effect as the best chance to get it through. The TPP is the centerpiece of President Barack Obama's broader economic and military rebalancing to Asia as China's clout grows. Lee is on a state visit to the U.S. and will meet Obama.
The World Bank estimates the deal could raise gross domestic product by an average 1.1 percent in member countries by 2030. It would be the biggest U.S. trade deal since the 1994 North American Free Trade Agreement. The pact goes beyond typical trade agreements that focus mostly on reducing tariffs by highlighting stricter safeguards for patents and leveling the playing field for companies that compete with government-backed businesses. 
For an explainer on the political issues behind TPP, click here.
The issue is sensitive in the U.S. because Democrat candidate Hillary Clinton only began voicing her concerns about it late last year. Virginia Governor Terry McAuliffe recently said Clinton would seek to fix parts of the deal after winning the general election, but later reversed himself, and her campaign has said it's not interested in renegotiating.
If Congress fails to pass the TPP it "would be a significant missed opportunity," Australian Trade Minister Steven Ciobo said in a Bloomberg Television interview on Tuesday in Jakarta.
"I do think that would lead to a worse outcome for not only all 12 countries involved in the TPP but also for the U.S.," Ciobo said, adding he was "cautiously optimistic" it would be ratified by Congress.
U.S. trade representative Michael Froman last week said tweaking the deal is not an option as it "is a carefully balanced agreement." Lee reinforced the point that TPP must pass as it stands, saying that "nobody wants to reopen negotiations."
"We know this has been politically difficult, it's a very tough election year," Lee said. "Economic uncertainty has led to concerns about jobs, worries about competition from overseas." Those are "understandable, even valid concerns, but we hope all parties will focus on the longer term, bigger picture," he said.
Before it's here, it's on the Bloomberg Terminal.
LEARN MORE