Shrunken Deutsche Bank, Credit Suisse Safe in Main Stock Index
by
They're among the top 20% biggest companies in Stoxx 600

UniCredit, Carrefour smaller than Deutsche in Euro Stoxx 50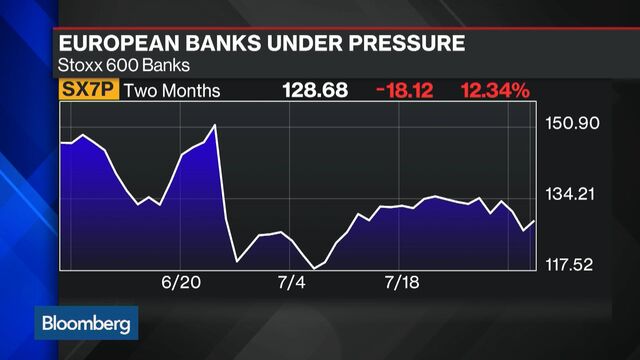 Shareholders who have watched Deutsche Bank AG and Credit Suisse Group AG give up half their market value this year will be spared the sight of them exiting Europe's biggest equity index. For now.
The declines that have pushed the German lender's market value to about $17 billion and the Swiss firm to $23 billion have yet to reach a magnitude that jeopardizes their inclusion in the Stoxx Europe 600 Index and, for Deutsche Bank, the Euro Stoxx 50 Index, according to their overseer's rules. The latter tracks only euro-denominated companies, and Deutsche Bank is its fourth-smallest member.
European lenders have been the most-hurt industry group in this year's equity selloff as investors lost faith in the European Central Bank's stimulus program, while record-low interest rates dented into their profits. That left shares of companies such as Deutsche Bank and Credit Suisse trading at or near record lows, triggering their removal from the Stoxx Europe 50 Index, a gauge that is less closely watched by investors.
"Both shares are in the Stoxx 600 and will stay in the Stoxx 600," said Achim Matzke, the head of global index and technical research at Commerzbank AG in Frankfurt. "Deutsche is not currently in danger to be kicked out of the Euro Stoxx 50 -- I say 'currently' because of the volatility we're seeing in bank shares, with stocks down sharply in a short period of time." 
Stoxx Ltd. said on Monday it would replace Deutsche Bank and Credit Suisse in the Stoxx Europe 50 with French builder Vinci SA and Dutch semiconductor-equipment maker ASML Holding NV, with the changes taking effect at the market open on Aug. 8. The German company had been part of the gauge since its inception in 1998, while Credit Suisse was removed in 2012 and added back the following year, the index provider said. Components are reviewed every month and each company needs to maintain a specific rank based on market value to remain in the measure.
Companies in the Stoxx 600 are reviewed quarterly, and those in the Euro Stoxx 50 annually. Both gauges track the biggest European firms that are most representative of their sectors. With weightings of more than 0.2 percent, Deutsche Bank and Credit Suisse remain among the 115 largest members of the Stoxx 600, data compiled by Bloomberg show. The German firm accounts for 0.8 percent of the euro-area index. Lara Atkinson, a media representative at Stoxx, declined to comment further.
The removal of Deutsche Bank and Credit Suisse from the Stoxx Europe 50 shows how shrinking profitability is diminishing the financial sector's weight relative to the broader market, according to Michael Woischneck, who oversees about 300 million euros ($337 million) at Lampe Asset Management in Dusseldorf, Germany. Their stocks have slumped more than 50 percent this year, and their market cap of less than $23 billion compares with an average of about $85 billion for members of that index.
"Banks have lost their importance to sectors including retail and industry, and the indexes have to reflect that," said Woischneck in a phone interview. "It hasn't happened yet, but if market capitalization decreases further, Deutsche Bank may drop out of the Euro Stoxx 50. That would be a disaster."
Before it's here, it's on the Bloomberg Terminal.
LEARN MORE