Saatchi Chairman's Claim of Gender Victory Shows Work to Do
By and
Women took less than 3% of new CEO positions last year

Leadership parity at companies could be 80 years away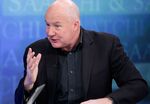 Saatchi & Saatchi Executive Chairman Kevin Roberts' comments that the debate on gender diversity is "over" gave voice to what many male advertising executives may be thinking. That's a problem for an industry working to move beyond the sexism of its "Mad Men" past.
The remarks by the 66-year-old agency boss, which sparked a backlash and led to him being placed on leave by Saatchi parent Publicis Groupe SA, come as diversity inroads have slowed or stalled across the globe even as companies are under increasing pressure to show progress.

"He's saying out loud what a lot of people think men are saying under their breath, so in that sense it's kind of a gift that he's giving us a chance to address it," said Davia Temin, head of the New York-based crisis-management firm Temin & Co., who also coaches male and female executives on their careers. "There's a difference between saying we've made a lot of progress and having crossed the finish line."
Eight Decades
The World Economic Forum estimates that it may take 80 years, at the current rate, for women to reach parity in leadership at companies across the globe. Women captured less than 3 percent of new chief executive officer positions last year, the lowest since 2011, according to a PwC study of 2,500 global public companies released in April.
Procter & Gamble Co., a Saatchi advertising client, was among those critical of the comments. "We strongly disagree with the comments made by Mr. Roberts, which we made clear to Publicis leadership," Damon Jones, a spokesman, said in an e-mailed statement. "P&G is unequivocal in our support for diversity and inclusion in all forms."
Last week, Qualcomm Inc., the biggest maker of semiconductors that run smartphones, agreed to settle allegations of gender disparity. The company will pay $19.5 million, appoint advisers and increase diversity programs.
For a story on men seeking women for boards, click here.
Over the past four years, there's been a decline in the appointments of white women, blacks, Latinos and Asian Americans as CEOs of Fortune 500 companies, said Richard Zweigenhaft, a professor at Guildford College in Greensboro, North Carolina. 
"It may be that the heyday of diversity, certainly at the top of major American corporations, has come and gone," said Zweigenhaft, who has researched minorities in top management ranks. "And this decline is striking because it follows a decade in which there was a gradual increase in those who aren't white men."
Don Draper
The struggle is particularly acute on Madison Avenue. While women represented 46 percent of the advertising industry workforce in 2014, only 11.5 percent held the prestigious position of creative director -- Don Draper's job on the TV show "Mad Men." That's according to a survey conducted by the 3% Conference, which promotes female leadership.
"The reality is the advertising industry is behind," said Daniele Fiandaca, an ad executive who co-founded London-based Token Man, an initiative aimed at helping men understand challenges women face in the industry.
In the controversial interview, Roberts said he doesn't spend "any time" on gender issues at his agency, adding that the issue is "way worse" in sectors such as financial services, where there are "problems left, right, and center." He said some women are "happier" to avoid leadership roles.
Overall, 49 percent of the Publicis workforce is women, according to the Paris-based advertising company's 2015 corporate social responsibility report. Women represent 38 percent of the executive committees and 54 percent of the Publicis supervisory board, chaired by Elisabeth Badinter. 
'Harmful Statement'
Roberts is mistaking employment for equality, said Wendi Lazar, a partner in the executives and professionals practice group at the Outten & Golden LLP law firm in New York.
"You can have a lot of women employees in a company, but not at the top of the company in the C suite, or in leadership," said Lazar. "It's like saying we don't value the value of women in leadership roles. It could be viewed as a really harmful statement" from Roberts.
His boss agreed.
"It is for the gravity of these statements that Kevin Roberts has been asked to take a leave of absence from Publicis Groupe effective immediately," CEO Maurice Lévy said Saturday in a statement. A final decision is pending, the company said.
Roberts worked previously for Gillette Co., P&G and PepsiCo Inc., according to his book "Lovemarks: The Future Beyond Brands." While at food and beverage company Lion Nathan in New Zealand, he worked with Saatchi & Saatchi, and in 1997 he became CEO of the agency, which was acquired by Publicis in 2000.
Roberts didn't respond to requests for comment.
The gender debate needs to shift from where women are in a company's hierarchy to what's preventing more female executives from attaining a leadership role, said Dave Weisbeck, chief strategy officer with human resources data analytics company Visier Inc.
Women maintain parity with men until their early 30s, as they leave the workforce to care for children, according to Visier research. When they rejoin in their 40s, it is difficult for those women to make up for the missed promotions, Weisbeck said. Companies don't do enough to ensure women can stay in the workforce and compete with men after they have children.
"What Kevin Roberts is essentially saying is that, when it comes to attaining leadership roles, women have a choice and most are simply not choosing to go for management positions," he said. "However, the data has shown us time and time again that this is not a simple matter of choice for women. The real question is: Are expectations on men and women equal?"
Before it's here, it's on the Bloomberg Terminal.
LEARN MORE