Renzi Takes a Swipe at Erdogan in Row Over Turkish Leader's Son
By
Erdogan accuses Italian judges of unfairly targeting his son

Renzi fires back that Italy beholden to its laws, not him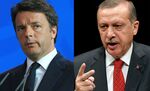 Prime Minister Matteo Renzi took to Twitter to hit back at Turkish President Recep Tayyip Erdogan, who lashed out at the Italian justice system for targeting his son and who has been on an anti-West tirade since thwarting a coup.
The skirmish between the two leaders, whose nations have a complicated history of commercial rivalry going back to the Ottoman Empire, took place across medias starting with a television interview where Erdogan complained that his son, Bilal Erdogan, can't return to Italy because he could be arrested in a money-laundering probe that "he doesn't know the reasons for."
In the interview with Rainews24 Erdogan called on Italian judges to focus instead on the mafia and said the issue could tarnish Turkey's relationship with Italy. Erdogan's comments were translated into Italian.
Renzi shot back, in Italian, in the 140-character format: "In this country judges respond to laws and to the Italian constitution, not to the Turkish president. It's called rule of law."

Erdogan's post-coup purge, demands that the U.S. extradite the plot's alleged mastermind and verbal assaults on the European Union, which Turkey has been in talks to join for more than a decade, have soured ties to the West and brought Erdogan closer to one-time foe, Vladimir Putin.
Bilal, 35, is one of Erdogan's four children. He was finishing a doctorate degree in Bologna, home to the country's oldest university, before the money-laundering probe. It's unclear when he left the northern Italian city, which has a history of strong political activism and was once a Communist stronghold. Erdogan denied any wrongdoing by his son and accused prosecutors of bias.
"In that city they call me dictator and they do demonstrations to back the PKK," Erdogan told Rainews 24, referring to the autonomy-seeking Kurdistan Workers' Party. "My son is a smart man and is accused of money laundering. Why don't they deal with mafia and not with my son?"
Before it's here, it's on the Bloomberg Terminal.
LEARN MORE