Australia Looks Set to Cut Rates Again This Year
by and
Futures indicating a more than even chance of a reduction

Inflation expected to remain low for some time, RBA says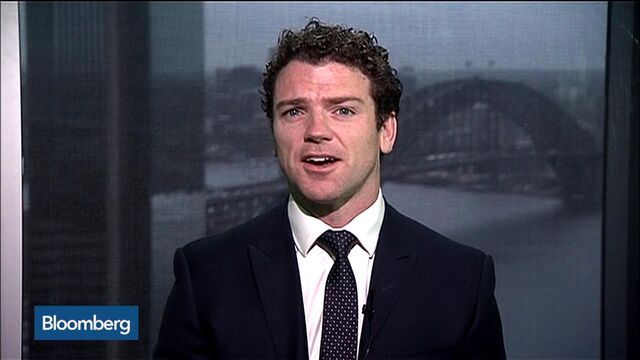 The Reserve Bank of Australia just gave bond traders what they expected and now they are looking for more.
The yield on December cash-rate futures dropped 7.5 basis points to 1.34 percent Tuesday, indicating a better than even chance the central bank will reduce its benchmark rate again this year. That came after the RBA delivered its second quarter-point cut for 2016, taking the cash rate to a record-low 1.5 percent, as expected by a majority of economists and investors.
Reserve Bank of Australia Governor Glenn Stevens and his board reacted to disinflation and a labor market hampered by high levels of part-time work and underemployment. Core inflation and wage growth are both at record lows and the central bank expects consumer prices to remain "quite low" for some time given "subdued" wage growth and low cost pressures across the world.

There is "a greater risk of still further interest rate cuts," considering the RBA's decision to cut even as indicators show Australia's economy is expanding moderately, National Australia Bank Ltd. economist Ivan Colhoun wrote in a note to clients.
The central bank will release its quarterly update of growth and inflation forecasts on Friday. The previous report was in May, when the RBA last cut. Third-quarter inflation data is scheduled to be released Oct. 26.

The RBA will probably extend its forecast for underlying inflation to reach its target of 2 percent to 3 percent by six months to the last quarter of 2018 on Friday, Australia & New Zealand Banking Group Ltd. economists led by Kieran Davies said in a note.
While the economists said market pricing for another 25 basis point reduction looks "excessive," they still expect the central bank to hold an "easing bias" on low inflation.
The Australian dollar, which dropped as much as 0.6 percent after the RBA reduction, more than erased all those losses to climb 1 percent on Tuesday and close at 76.09 U.S. cents, after touching a two-week high.
Government bonds simply rallied throughout the RBA meeting day, with three-year yields dropping as much as 10 basis points to a record 1.36 percent and rates on 10-year notes sliding 6 basis points to an unprecedented 1.81 percent. The premium 10-year debt offers over similar-dated Treasuries shrank to a 15-year nadir of 26 basis points.
The central bank is trying to navigate the end of a once-in-a-century mining boom by relying on services like tourism and education to pick up some slack via low rates and a currency that's weakened from its 2013 peak. An appreciating exchange rate could complicate the transition, the RBA reiterated after it cut rates.
"If the RBA is looking to currency depreciation to help solve its inflation problem it may have to follow up with more cuts, possibly taking the benchmark down to 1 percent in 2017," Capital Economics' Chief Economist for Australia Paul Dales said in a note .
Before it's here, it's on the Bloomberg Terminal.
LEARN MORE