Polish Banks Win Reprieve as Glapinski Grabs Swiss-Loan Role
By and
Central bank chief wrests role in loan switch from politicians

Warsaw stocks stabilize after world-beating gain on Tuesday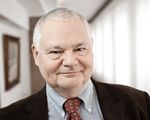 Adam Glapinski won his first battle as Poland's central bank chief. In office for just five weeks, the 66-year-old economist wrested control from politicians on the main issue facing the country's banks -- how to safely unwind their $36 billion foreign-currency loan portfolio.
Stocks and the zloty rallied on Tuesday as investors bet Glapinski's approach will cost banks less than an earlier proposal to exchange mainly Swiss-franc mortgages into zloty. The governor said on Tuesday he's seeking a voluntary solution instead of forcing lenders, which already face the European Union's highest tax levies, into a costly and mandatory conversion.

"Now it will be the central bank and the regulator talking to banks about their Swiss mortgages," said Dariusz Gorski, an analyst at Bank Zachodni WBK SA. "This means less political interference, which gives investors a sense of comfort."
President Andrzej Duda's proposal, announced on Tuesday, envisages a gradual conversion of mortgages triggered by regulatory changes as well as a draft law forcing lenders to pay back clients as much as 4 billion zloty ($1 billion) for "excessive" exchange-rate spreads. Stock investors applauded the plan, with Warsaw's WIG20 index surging 2.4 percent, the biggest advance among more than 90 primary equity gauges tracked by Bloomberg that day.
The WIG20 declined 0.2 percent at 10:10 a.m. in Warsaw, with Poland's biggest lender PKO Bank Polski SA dropping by the same amount to 26.24 zloty after it surged 11 percent, the most in eight years, on Tuesday. The zloty was little changed at 4.3233 against the euro, trading just below an eight-week high.
Glapinski's Request
Fixing the issue of foreign-currency loans has hung over Polish lenders and slowed consolidation after Duda made helping the country's 565,000 foreign-currency mortgage holders a key plank of his election campaign last year. Glapinski said he asked Duda to let the central bank take care of the issue to ensure the industry remains stable amid near-zero or negative global interest rates, a crisis in Italian banks and potential fallout from the U.K.'s vote to leave the EU.

Regulatory actions will "tighten the screw on banks, if we think this is needed," Glapinski told reporters gathered at a Presidential palace in Warsaw. "Our absolute priority is maintaining financial stability."
Polish banks have plummeted twice as fast as emerging-market stocks, adjusted for currency swings, since Duda's election in May 2015, losing a quarter of their market value. The president's earlier Swiss-loan proposal would have cost the banks as much as 67 billion zloty, or about six years of the industry's profit, according to the regulator's estimate published in March.
"Investors' enthusiasm is excessive," said Maciej Marcinowski, an analyst at Trigon Dom Malkerski SA brokerage. Loan-conversion costs could still amount to as much as 40 billion zloty and force lenders to limit dividends or even raise capital, he said by phone.
Regulatory Trigger
Poland is following other eastern European countries that moved to convert foreign-currency mortgages, which accumulated before the 2008 financial crisis as borrowers flocked to secure low interest rates. The zloty has lost half of its value against the franc in the past six years. That has made the value of more than half of such loans higher than that of the underlying property.
Duda's plan, which will be sent to parliament within days, envisages banks returning funds to clients for currency spreads that deviated more than 0.5 percent from the central bank's daily fixing rate. The spread costs will be capped if the value of the loan exceeded 350,000 zloty.
The plan is "tough, but manageable" for banks, Krzysztof Pietraszkiewicz, head of the Polish lenders' lobby, said on Tuesday. He said it's good that the responsibility for the Swiss currency loan issue was shifted from politicians to regulators, who have "constitutional" duty to protect the industry's stability.
Glapinski said he will recommend that the country's financial regulator levy additional capital requirements on lenders with exposure to foreign currency loans to encourage them to convert their mortgages into zloty. Duda may resume work on a forced conversion after a one year evaluation, his adviser Maciej Lopinski said on Tuesday.
Kaczynski Ally
"Glapinski not only took upon himself the role of coming up with a solution, but also serves as the guarantor of its credibility," said Marta Petka-Zagajewski, the chief economist at Raiffeisen Polbank SA. "At the same time, Duda left himself a window to take back the political initiative, if banks fail to react appropriately."
Approved by parliament for a six-year term at the helm of the National Bank of Poland in June, Glapinski is a long-time ally of Jaroslaw Kaczynski, the leader of the ruling Law & Justice party and the most powerful man in Polish politics.

Glapinski's "calmer and more pragmatic views," as well as the ability to resist the pull of old allegiances pushed the Swiss-loan debate in the right direction and triggered the market rally, according to Peter Attard Montalto, an economist at Nomura Plc in London.
"He deserves some praise for shifting the balance - indeed, a month ago we were still convinced the plan would be more dramatic," Montalto said.