Pfizer Beats Estimates Even as Biggest Product Falls Short
by
Prevnar vaccine falls short as Ibrance, Xeljanz top estimates

'Pfizer remains a company in flux,' says analyst Anderson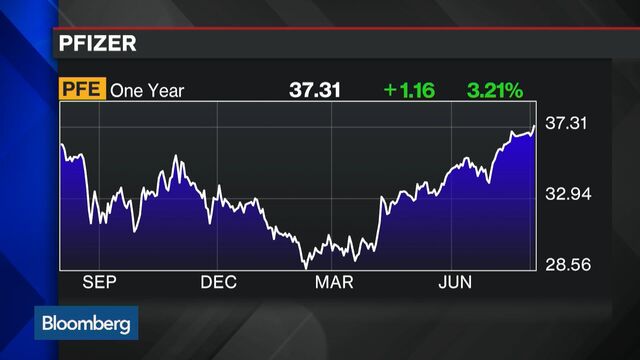 Pfizer Inc.'s biggest product, the vaccine Prevnar, fell short of sales estimates in the second quarter, though the drugmaker posted earnings that beat analysts' estimates thanks to strong sales of two of its newest drugs.
Profit excluding some items was 64 cents a share, according to a statement Tuesday from the New York-based drugmaker. Analysts predicted 62 cents, the average of estimates compiled by Bloomberg. Revenue rose 11 percent to $13.15 billion, the company said, beating projections of $13.01 billion.
Sales of Ibrance, Pfizer's new breast cancer treatment, more than tripled to $514 million, compared with analysts' $498 million projection. Sales may reach $4.81 billion by 2018, according to estimates compiled by Bloomberg. Another new drug, the rheumatoid arthritis pill Xeljanz, brought in $217 million. Projections were for $199 million.
Those products helped cushion a decline in sales of Prevnar, Pfizer's vaccines for pneumococcal diseases. The shots sold $1.26 billion, compared with estimates of $1.58 billion, after sales in the U.S. leveled off following what Pfizer said was pent-up demand.
"Prevnar was a notable miss," Vamil Divan, an analyst at Credit Suisse, said in a note to clients.
The shares fell 1.5 percent to $36.74 at 9:31 a.m. in New York. They've climbed 16 percent this year, as of Monday's close.
Watching Split
Investors have been closely watching whether or not Pfizer will decide to split into two separate companies, one focused on research-driven treatments and the other on older medicines that have lost patent protection or are close to doing so. In the meantime, it's relying on its newer medicines to offset expiring patents on drugs such as the pain pill Celebrex.

The potential split is expected to be discussed this morning when the drugmaker holds a call with investors. Tim Anderson, an analyst at Sanford C. Bernstein & Co., said in a note to clients Tuesday that he doesn't expect a split, though is watching closely what direction the company ultimately takes.
"Pfizer remains a company in flux," he said.
Highlights from the second-quarter:
Pfizer's innovative division reported a 7.2 percent increase in quarterly sales to $7.11 billion, while the established arm delivered a 16 percent increase to $6.04 billion. 
Pain medicine Lyrica sales were $1.05 billion, versus estimates of $1.16 billion.
Net income for the first quarter was $2.02 billion, or 33 cents a share, compared from $2.63 billion, or 42 cents per share, a year earlier.
Before it's here, it's on the Bloomberg Terminal.
LEARN MORE