business
Oil Rises as U.S. Gasoline Supply Decrease Outweighs Crude Gain
By
Gasoline inventories fall 3.26 million barrels last week: EIA

Brent oil entered bear market Tuesday, joining U.S. benchmark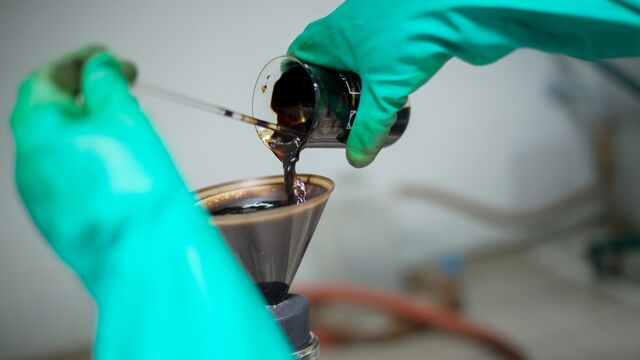 Oil rose the most in three weeks after U.S. gasoline stockpiles fell the most since April as refineries increased operating rates.
Gasoline inventories dropped 3.26 million barrels last week, a Energy Information Administration report showed. Supplies along the East Coast, where futures contracts are delivered, fell from last month's record high. Refineries' crude demand jumped 266,000 barrels a day from the prior week. Crude production slipped while imports climbed.

"The gasoline inventory decline was off the charts," said Matt Sallee, who helps manage $14.1 billion in oil-related assets at Tortoise Capital Advisors in Leawood, Kansas. "I just looked at the last five summers and this is one of the biggest declines during the season, one of the top five."
Oil has tumbled more than 20 percent from its June peak, meeting the common definition of a bear market and ending a recovery that saw prices almost double from a 12-year low in February. Analysts from Citigroup Inc. to Bank of America Merrill Lynch are confident the slump will be short-lived and investors are paying the smallest premium in two months to protect against a drop in crude from now through the end of the year.
WTI for September delivery rose $1.32, or 3.3 percent, to close at $40.83 a barrel on the New York Mercantile Exchange. It's the biggest gain since July 12. Futures touched $39.19 earlier, the lowest intraday price since April 18. Total volume traded was 11 percent above the 100-day average at 2:46 p.m.
Crude Supply
Brent for October settlement rose $1.30, or 3.1 percent, to $43.10 a barrel on the London-based ICE Futures Europe exchange. The global benchmark closed at a $1.52 premium to October WTI.
For a story on Mexico benefiting from an oil price hedge, click here.
"The production number is key," said Cavan Yie, senior equity analyst at Manulife Asset Management Ltd. in Toronto. "We are waiting for the market to rebalance and just have to wait out the volatility."
U.S. crude inventories rose 1.41 million barrels to 522.5 million barrels in the week ended July 29, leaving supplies at the highest seasonal level in decades, EIA data show. Stockpiles at Cushing, Oklahoma, the delivery point for WTI and the biggest U.S. oil-storage hub, fell by 1.12 million barrels to 64.1 million.
Surging Imports
Crude production in the U.S. fell by 55,000 barrels a day to 8.46 million, the first decline in four weeks. Crude imports surged 301,000 barrels to 8.74 million.
"Imports are the highest since October 2012, which is crazy," Sallee said. "We've had a structural decline in imports over the last few years because of the rise in U.S. output. I'm not sure why the barrels continue to come, but we do have available storage here and refineries might be stockpiling crude because they believe it's cheap and will move higher."
Refineries increased operating rates by 0.9 percentage point to 93.3 percent of capacity, the highest since November. Refiners typically bolster their operations in June and July to meet peak gasoline demand before ratcheting back in August. Over the past five years, refiners' thirst for oil has dropped an average of 1.2 million barrels a day from July to October.
Gasoline supplies dropped to 238.2 million last week. Production slipped 0.8 percent to 9.99 million barrels a day. U.S. consumption of the fuel averaged 9.73 million barrels a day in the four weeks ended July 29, little changed from the prior period and still the highest seasonal level in at least a decade.
Gasoline Outlook
September gasoline futures jumped 2.9 percent to $1.3499 a gallon, the highest close since July 22. Diesel for September delivery rose 2.3 percent to $1.2875.
"The move in gasoline might have legs because we had a draw while refinery utilization increased," said Thomas Finlon, director of Energy Analytics Group LLC in Wellington, Florida. "Gasoline production decreased while refinery utilization increased, which probably means they are already trying to maximize their distillate output. We could be in for another gasoline inventory drop next week."
Oil-market news:
The so-called put skew on December Brent and WTI options -- the premium traders will pay for insurance that prices will fall rather than rise -- has narrowed more than 30 percent since early July.
Oil prices are set for a "violent reversal" upward amid improved fundamentals, oil trader Andy Hall wrote to investors in his Stamford, Connecticut, hedge fund, Astenbeck Capital Management LLC.
A 48-hour strike involving contractors on seven North Sea oil platforms is set to go ahead after talks with their employer break down, U.K. union says in e-mailed response to a question.
Oil traders who specialize in purchasing cargoes from Mediterranean ports view the chances of an imminent resumption of shipments from two key Libyan terminals as almost zero, even after a deal was struck to reopen the facilities.
— With assistance by Rachel Adams-Heard
Before it's here, it's on the Bloomberg Terminal.
LEARN MORE