Microsoft is Transforming the Bond Market as Well as Its Business
Microsoft just lifted sales of AAA corporate bonds to their highest in years.
by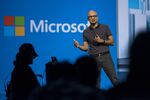 Just as Satya Nadella is making Microsoft Corp. more relevant in a world that prioritizes cloud computing and mobile technology, so too is the company breaking new ground in the bond market.
Microsoft sold $19.75 billion of bonds on Monday in its largest-ever debt issue. The notes, which were sold to raise cash for its planned purchase of LinkedIn Corp., were graded AAA — the highest possible credit rating — by S&P Global Ratings and Moody's Investors Service.

With that one deal Microsoft has taken sales of top-rated non-government debt to their highest in seven years, even though it's still only August. That's a surprising outcome given the global pile of AAA-rated government paper has been in decline since the financial crisis thanks largely to a drop in issuance by sovereigns. (Governments tend to have higher ratings than companies because they issue their own currency, can raise taxes, and own a printing press).
Sales of AAA bonds from corporates and financials totaled $48.8 billion as of Tuesday, up from $36 billion last year and $13.8 billion in 2014, according to data compiled by Bloomberg. That include companies with at least one top grade from Fitch Ratings, Moody's or S&P. Other issuers this year include Johnson & Johnson and Exxon Mobil Corp.

The increased supply of fresh AAA-rated corporate debt comes amid a broader bond-issuance bonanza that's encouraged companies to take advantage of rock-bottom interest rates and irrepressible investor demand for debt. Even as the overall number of corporates with top-tier credit ratings has shrunk since the financial crisis, big bond deals from those that remain — such as Microsoft — have been enough to lift total sales of AAA-rated corporate paper.

In contrast, issuance of government bonds with top marks has declined as rating agencies strip countries from the U.S. to the U.K. of AAA grades. Germany and Denmark are among issuers who've sold debt this year, which now totals $198 billion, down from $271 billion in 2015 and $464 billion a year earlier.

Top-rated securities are prized by investors from asset managers to pension funds for their relative safety. And with much of the government-debt market trading with negative yields, AAA corporate securities are even more desirable. Investors put in more than $50 billion of orders for Microsoft's $19.75 billion deal.
Still, just as some of the developed world's most stable and prosperous sovereigns have been demoted from AAA status, Microsoft's bonds are not bulletproof. While granting its top rating to the debt, Moody's has a negative outlook because it said Microsoft may continue to pursue "aggressive" shareholder returns or undertake additional large debt-funded acquisitions, all of which would increase the company's leverage.
Before it's here, it's on the Bloomberg Terminal.
LEARN MORE