Market Watchdog Sees India Rivaling U.K. for Investor Protection
By and
SEBI backs idea of independent regulator for Indian auditors

The nation's current approach relies on a self-regulating body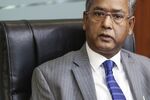 India could rival the U.K. for strength of minority shareholder protection by setting up an independent watchdog to oversee standards at company auditors, according to the South Asian nation's market regulator.
Such a shift would bolster standards of corporate governance in the $2 trillion economy, U. K. Sinha, the chairman of the Securities & Exchange Board of India, said in an interview in Mumbai.
"The audit profession is regulated by a self-regulated organization," Sinha said. "If by any chance the government or parliament is willing to create an independent regulator, that will bring us up two to three notches in corporate governance in the World Bank's rankings."
A climb of three places would put India level with the U.K. in the bank's gauge of the strength of minority shareholder protection, and behind only Hong Kong, New Zealand and Singapore. A recent alleged fraud at Ricoh India Ltd., a unit of Japanese camera and printer maker Ricoh Co., highlighted the issue of whether the nation needs better business standards to woo more investment.

"I haven't met any institutional investor who has complete confidence in the way the auditors self-regulate themselves in India," said Amit Tandon, founder and managing director of proxy adviser Institutional Investor Advisory Services India Ltd. in Mumbai.
India currently ranks equal eighth for minority investor protection with five other nations. Hong Kong, New Zealand and Singapore are tied in first spot. Malaysia and the U.K. are both in fourth, with Canada and Slovenia also above India.
Self-regulation
The World Bank says the gauge evaluates protection against the misuse of corporate assets by directors for personal gain. The index also covers shareholder rights, governance safeguards and corporate transparency requirements.
Auditors are self-regulated by the Institute of Cost Accountants of India, Sinha said. The institute became a statutory professional body under an act of parliament in 1959.
The organization has been effective and is subject to substantial oversight by the government, its Vice President Nilesh Vikamsey said.
Potential Confusion?
"We're not in favor of the thought of setting up a separate audit oversight body," Mumbai-based Vikamsey said. A multiplicity of regulators would lead to duplication, confusion, unwarranted extra costs and slow the oversight of auditors, he said.
Like other major economies, India has seen some high-profile accounting scandals. The one at Satyam Computer Services Ltd. in 2009 was among the biggest, prompting SEBI to tighten company disclosure rules. The Companies Act of 2013 sought to add further protection for minority investors.
Ricoh India's shares have been suspended since May following a rout exacerbated by the allegations of fraud. The company has said it's a victim of people acting individually and conspiratorially. Ricoh India's auditors said profits may have been inflated.
"To prevent recurrence of such instance in future, we are ensuring 'best in class' governance practices, including the restructuring and strengthening of the internal audit framework at Ricoh India," Ricoh India wrote in an e-mailed statement on July 27.
In another e-mailed statement, Ricoh India said it's "co-operating with the authorities and will continue to work with them during their investigation."
Examples such as Satyam and Ricoh India highlight auditing failures, said Ramakrishnan Mani, a partner at chartered accountancy Yardi Prabhu & Associates in Mumbai.
"A focus on greater oversight and monitoring will help detect problems early and prevent such incidents from being repeated," Mani said.
Before it's here, it's on the Bloomberg Terminal.
LEARN MORE