Junk Bonds Aren't Ignoring the Fall in Oil Prices
High-yield debt sold by energy companies is tracking the fall in crude.
By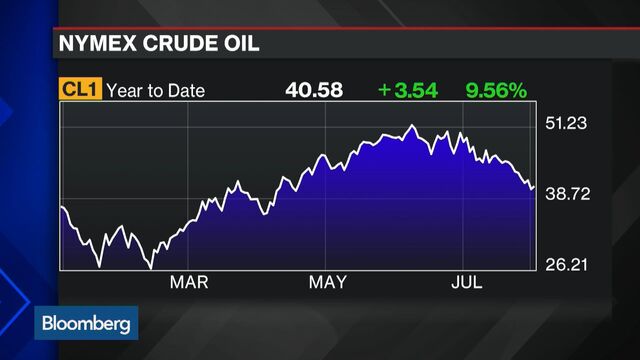 The financial blogosphere is on high alert over the apparent disconnect between tumbling oil prices and high-yield bonds barely off their recent peak.

On the surface, cause for concern is self-evident: if the gap between bonds sold by companies with more fragile balance sheets and oil closes with high-yield debt taking it on the chin, that could bode ill for other risk assets like stocks that tend to fall in tandem.
But Bespoke Investment Group Macro Strategist George Pearkes suggests there's a fundamental problem with the framing of the issue.
Instead of looking at headline high-yield performance and crude, which would give one the impression that investors have shrugged off the latest downdraft, we should be looking at the performance of energy-related high-yield bonds relative to the rest of that asset class, he says.
On that basis, debt sold by energy firms with junk ratings has barely outperformed compared with oil's recent drop.

"In our view, high yield markets are not 'ignoring' oil at all," concludes Pearkes.
Matthew Maley, equity strategist at Miller Tabak & Co, pointed to leverage sucked out of the high yield market after the prior massive decline in crude as another factor behind the resilience of this asset class, meaning that companies have been working to lower their debt levels in the face of the slump in crude.

But he warned that a prolonged stretch of below-$40 a barrel crude could raisesfears of an acceleration of defaults in the space.
"What we're trying to say is that the action in the high-yield market has been impressive lately, but we need to keep things in perspective ... and investors have to protect against becoming too complacent about this action," he writes.