Japan's Worst Bond Rout Since 2013 Feeds Anxiety BOJ Near Limits
by and
10-year yield rises to within 3 basis points of being positive

'No telling how far this will go,' MassMutual's Shimamura says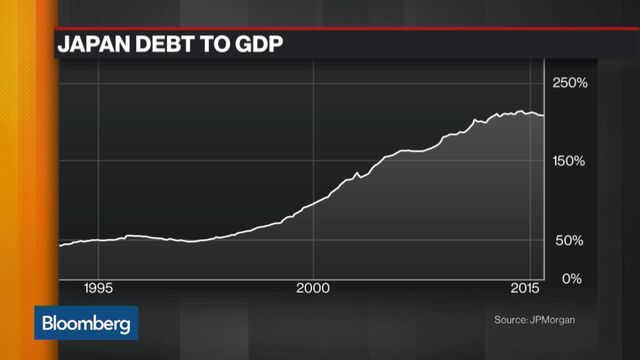 Japanese government bonds' steepest tumble in more than three years is feeding speculation that central-bank easing is nearing its limits.
A four-day rout pushed 10-year yields to within three basis points of turning positive on Tuesday for the first time since March, after Bank of Japan policy makers disappointed investors last week by leaving bond buying and their negative deposit rate unchanged even as they increased exchange-traded-fund purchases. Pacific Investment Management Co. and former Ministry of Finance official Eisuke Sakakibara both say central bank Governor Haruhiko Kuroda is running out of room to expand stimulus.
"The selling is insane," Satoshi Shimamura, head of rates and markets for the investment strategy department of MassMutual Life Insurance in Tokyo, said Tuesday. "The market is picturing an end to Kuroda easing. There's no telling how far this will go."
The Bank of Japan is unlikely to scale back its record monetary stimulus after completing a review of the policy for its September meeting, Kuroda said Tuesday. Finance Minister Taro Aso said he reconfirmed in a meeting with Kuroda that the central bank will use all its tools to help the economy. The BOJ Governor had said Friday the central bank hasn't come to its policy limit.
"There aren't a whole lot of bonds left to buy," said Nicholas Smith, a strategist at CLSA Ltd. in Tokyo, speaking in an interview on Bloomberg Radio. Kuroda should take a vacation because there's very little policy makers can achieve from here, he said.
"Give him a couple of first class tickets and tell him to find a beach of his choice," Smith said. "The central bank has done about all it can do for the time being."
The following four charts show the extent of the bond selloff, and some of the implications:

Yields are rising fastest in the section of the bond market where they are negative -- maturities of about 10 years or less. These shorter tenors have traditionally been more sensitive to changes in the outlook for monetary policy. The 10-year yield climbed as high as minus 0.025 percent Tuesday before closing at minus 0.06 percent. It was at minus 0.095 percent at 10:22 a.m. in Tokyo Wednesday.

For some investors and economists, and at least one member of the BOJ's policy board, this year is reminiscent of 2003, when benchmark yields almost tripled within three months. Known in Japan as "The VaR Shock," an initial jump in yields triggered a sudden selloff by breaching models banks were using for estimating potential losses, based on the statistical technique of "value at risk." BOJ member Takehiro Sato said in June he sees a similar vulnerability.

The four-day surge in Japan's 10-year bond yield brings it in line with Germany's for the first time since April 2015, when bunds experienced a rout of their own. Back then, investors who had sought the safest assets suddenly changed their minds amid optimism Greece and its creditors would reach a deal, and market swings were amplified by reduced liquidity due to European Central Bank debt purchases.

There are parallels in Japan now, where the BOJ's record bond purchases have sapped liquidity and hampered the market's efficiency. The central bank owns more than a third of outstanding debt, the most of any investor class, and volatility has surged this year to the highest level since 1999.
Watch Next: Japanese Yields Climb Fastest Since May 2013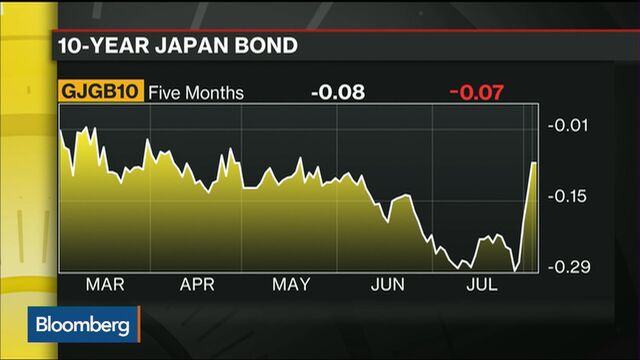 Before it's here, it's on the Bloomberg Terminal.
LEARN MORE