Japan's 10-Year Yield Climbs to Highest Since March After Sale
by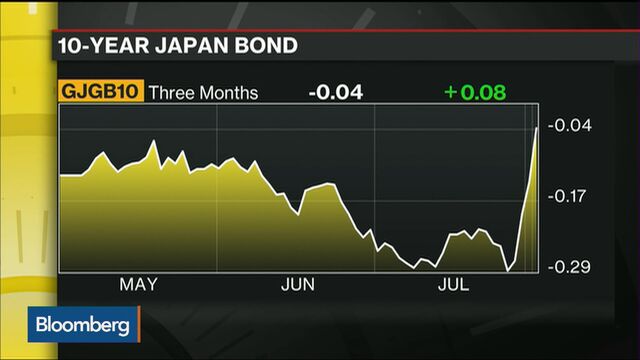 Japanese bonds fell for a fourth day, driving benchmark 10-year yields to the highest in 4 1/2 months, as demand fell at an auction and after the Bank of Japan last week unexpectedly refrained from expanding its purchases of government debt.
The yield on the June 2026 note rose as much as 12 basis points to minus 0.025 percent, compared with minus 0.295 percent on July 27, two days before the BOJ meeting ended, according to data from Japan Bond Trading Co. The rate was last above zero on March 11. An auction of 2.4 trillion yen ($23.4 billion) of the securities in Tokyo on Tuesday received the weakest demand since February.
"The 10-year auction was very bad," said Yoshiyuki Suzuki, the head of fixed income in Tokyo at Fukoku Mutual Life Insurance Co., which has about $64.5 billion in assets. "People are afraid the BOJ may change its target" for the amount of debt it buys.
The government and the central bank have faced pressure to react after the yen's 17 percent surge this year exacerbated concerns that inflation is sagging and that the so-called Abenomics program is losing ground. About 80 percent of the economists surveyed by Bloomberg had expected the BOJ to increase its unprecedented monetary easing at its two-day meeting that ended Friday. More than half of them expected any expansion to involve an increase in bond buying.
Japan's negative-interest-rate policy and bond purchases known as quantitative easing sent most yields below zero, and also helped bring down global yields to unprecedented lows.
The nation's two- and five-year yields tumbled to records last week, touching minus 0.37 percent and minus 0.38 percent, respectively. The 10-year yield reached an unprecedented minus 0.30 percent on July 8.
Tuesday's auction saw the tail -- a measure of demand that tracks the difference between the average price and the low price -- widen to the most since March 2015 at 0.27.
Before it's here, it's on the Bloomberg Terminal.
LEARN MORE