Investors Yank More From U.K. Funds on Brexit Than During Crisis
by
Retail investors redeem 3.5 billion pounds from funds in June

U.K. property funds hit with 1.4 billion pounds in outflows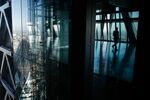 Individual investors pulled more from U.K. investment funds in the month that Britain voted to leave the European Union than they did during any equivalent period in the global financial crisis.
Retail investors redeemed a net 3.5 billion pounds ($4.7 billion) from funds in June, according to data compiled by The Investment Association. Equities accounted for most of the outflows, with 2.8 billion pounds pulled, while property funds were hit with 1.4 billion pounds of redemptions, the data shows.
"The scale of the exodus from investment funds in June is quite extraordinary, with the Brexit vote eclipsing the financial crisis," said Laith Khalaf, a senior analyst at Hargreaves Lansdown. "Clearly investors were rattled by the referendum, and switched out of assets they perceived to be at risk from a vote to leave the EU."
Britain's shock decision to leave the economic bloc prompted seven U.K. property funds to suspend trading after a spike in redemption requests. U.K. asset managers Schroders Plc and Henderson Group Plc last week reported net outflows totaling 3.4 billion pounds in the second quarter because of the uncertainty surrounding the referendum.
The U.K. industry's funds under management still climbed to 948 billion pounds at the end of June, boosted by inflows into fixed income and money market funds and an increase in institutional sales, the data shows.
"Clearly, Brexit has been unsettling, with property and equity funds particularly affected," said Guy Sears, interim chief executive officer at the Investment Association. "At the same time, flows were positive into fixed income and targeted absolute return sectors as investors sought safer harbors."
Sign up to receive the Brexit Bulletin, a daily briefing on the biggest news related to Britain's departure from the EU.
Before it's here, it's on the Bloomberg Terminal.
LEARN MORE