Ford, GM U.S. Sales Miss Estimates With Honda Rare Bright Spot
by and
Full-year record in doubt as demand seen plateauing this year

Industrywide sales rise 0.7% as incentives start to mount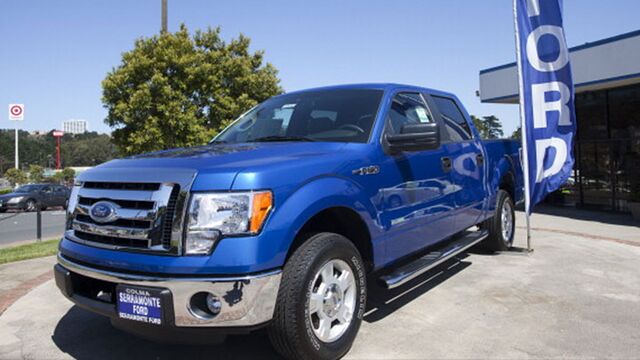 Most large automakers reported U.S. light-vehicle sales that trailed analysts' estimates for July, reinforcing concerns that the market may have peaked with last year's record deliveries.
The results were mixed, with declines at General Motors Co., Ford Motor Co. and Toyota Motor Corp. and small gains at Nissan Motor Co. and Fiat Chrysler Automobiles NV. Honda Motor Co., which had been predicted to drop, instead surprised analysts with a 4.4 percent jump, the biggest among the group.

While together the industry eked out a 0.7 percent gain over the year-earlier July, that was of no comfort to investors: Shares of GM, Ford and Fiat Chrysler all fell about 4 percent or more. The results underscored the prospect that automakers are entering a long sales plateau -- albeit at a healthy level -- instead of the robust growth that has helped the U.S. economy.
"In the past five years, it's been onward and upward, let's hire, let's plan on high growth. Those days are gone," said Mark Wakefield, managing director and head of the automotive practice for consultant AlixPartners. "We're not going to see the auto industry driving the economic cycle."
The month's seasonally adjusted annual sales rate was 17.9 million vehicles, researcher Autodata Corp. reported. That's more than the 17.6 million average estimate from analysts in a Bloomberg survey. July results were influenced by having five weekends in the month, up from four a year earlier.
Automakers already have responded by boosting incentives to customers. Ford felt the sting in July, blaming a rare down month for its sport utility vehicles on GM's early July promotion offering 20 percent off sticker prices. Average discounts rose 13 percent in the first half while industry sales rose 1.5 percent, according to Autodata.

Among the highlights of Tuesday's sales reports:
GM, the largest U.S. automaker, said sales slid 1.9 percent, more than analysts projected. Its bread-and-butter Chevrolet division saw a 5.3 percent decline in total sales as GM cut back on deliveries to rental fleets in pursuit of better profit margins.
Ford's 3 percent drop was deeper than predicted, with declines of 22 percent for Explorer and 10 percent for the Escape compact SUV.
Fiat Chrysler eked out a 0.3 percent increase. Jeep SUVs and Ram Truck brands led the company's U.S. deliveries, both showing gains of about 5 percent.
Toyota sales fell 1.4 percent, a smaller drop than the 2.9 percent analysts expected.

Nissan, which is trying to build a U.S. lead over Japanese rival Honda, reported a 1.2 percent increase, trailing estimates. While Nissan brand sales rose 1.7 percent on truck demand, car deliveries at its Infiniti premium line fell by more than a third.
Honda reported its increase, instead of an estimated 0.4 percent decline, on the back of strong crossover utility sales: CR-V sales rose 13 percent to 36,017, securing its place as the segment's top seller.
Affordability Issues
Affordability has become the biggest impediment to buying a new car, according to a recent survey by research firm AutoTrader. Its affiliate, Kelley Blue Book, said Tuesday that average new-vehicle prices rose to $34,264 last month, up 2.5 percent from a year earlier.
"The people who could afford a car, got a car," " Michelle Krebs, a senior analyst with AutoTrader, said in an interview. "If you look at stagnation of wages and the increase in the price of everything, cars included, there's a lot of demand on household income that isn't increasing."
This year, the U.S. market has become "very price sensitive," Ford U.S. sales chief Mark LaNeve told analysts on a conference call. As evidence that, he said Ford saw a "fairly dramatic decrease" in its lease business after making "modest increases in our lease prices" in July.
With sales stalling, automakers are dialing up discounts. "We are seeing much richer incentives to continue to buoy retail sales," analyst Krebs said.
LaNeve blamed Ford's decline in SUV sales on GM's early July promotion offering 20 percent off sticker prices. That was "a dramatic escalation" in incentives, he said.
"My dad used to say, 'Trees don't grow to the sky,'" LaNeve said. "We'll adjust our plans accordingly to the reality and temper our expectations."
Before it's here, it's on the Bloomberg Terminal.
LEARN MORE